Marcus Ericsson won the first race of his NTT IndyCar Series career in improbable fashion on day one of the Detroit Grand Prix. It appeared that Will Power would earn the victory, but a car issue in the pits gave Ericsson the break he needed to achieve the victory.
Ericsson held off Rinus VeeKay and Pato O'Ward down the stretch in a three-lap sprint after the second caution of the afternoon, thanks to Romain Grosjean. He started the final stint in the lead and never looked back, winning the Detroit Grand Prix in the No. 8 Huski Chocolate Chip Ganassi Racing Honda.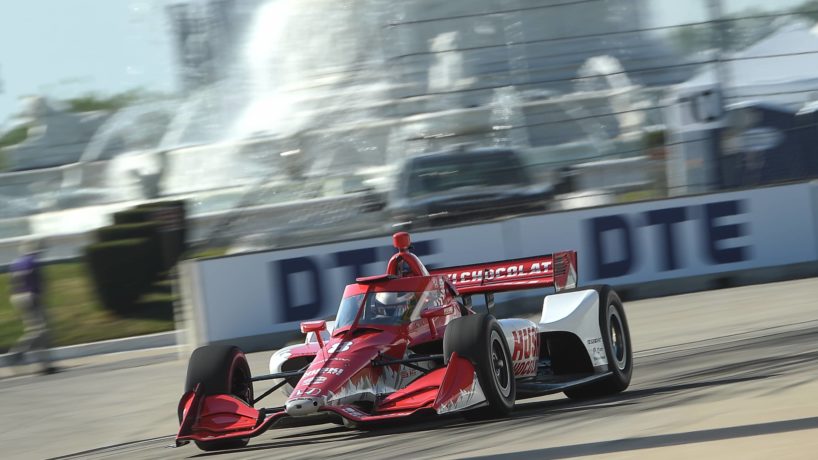 Power Can't Find "Power"
When Grosjean crashed in the No. 51 NURTEC ODT Honda, there were six laps left in the race. The red flag came out, which sent drivers to the pit road. Power had the lead at the red flag, but his No. 12 Verizon 5G Team Penske Chevrolet would not restart.
It was announced that there was an electrical control unit malfunction in his car, which prevented it from starting after the red flag. Ericsson started the day in 15th, and he only led the last five laps of the race, two of which were under caution.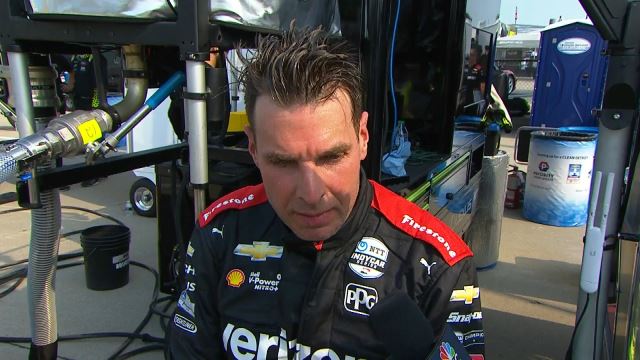 Ericsson ran a great race and took advantage of his opportunities, but Power deserved the win on day one. His car has been notorious for issues in the past two weeks. He had to pit before the Indy 500 even started because of flaws in the No. 12 Verizon 5G Team Penske Chevrolet.
After Power's day abruptly ended, he was furious.
"I'm mad at IndyCar because I'm the first car in, and they wait for the last car to come to get a fan on my car, and it roasts the ECU. And just going red flag, for starters. The guys up there in Race Control never listen to any drivers. They never listen. They don't care. We've given them so many good suggestions, and they don't care. I worked my arse off today. To have this happen."
If Power had been allowed to get a fan on his car as he entered pit road, he would have earned the 40th win of his career.
Special Day for Marcus Ericsson
Ericsson addressed how he felt sorry for Power. However, Ericsson was elated to earn the win in Detroit on Saturday. Ericsson left the pits first and widened his lead over Veekay's No. 21 Sonax/Autogeek Chevrolet, winning by 1.7290 seconds.
Before Ericsson made the signature plunge into the Bell Island fountain, he spoke to NBC Sports.
"For once, things fell my way. It feels really good. For Will, I feel really bad for him with the way it ended for him. He did a tremendous job today. But it was my day today, and it was about time."
Saturday marked the 37th start of Marcus Ericsson's career. His best finish was a second-place nod at this course in 2019. He was a heavy underdog after starting the day in 15th place, but anything can occur in IndyCar.
VeeKay and O'Ward finished in second and third behind Ericsson. Takuma Sato and Graham Rahal rounded out the top five.
Check out the complete list of results here.
Qualifying for race two of the Detroit Grand Prix will occur on Sunday at 9:15 AM ET. The green flag is set to wave at noon ET. Look for Will Power to bounce back after Saturday's race slipped out of his hands.
Tanner Kern is a writer for Knup Sports and the Sports 2.0 Network. He is the host of Between the Lines, the official show of Baseball Spotlight, and the main contributor for the website. Connect with Tanner on IG @tannerkern and Twitter @tannerkern_.
---
Join our Discord
to leave a question or comment regarding this article. We have sports fans talking betting all day — every day! JOIN THE DISCORD NOW AND QUALIFY FOR PRIZES & BETTING SWAG!
---