Beth Paretta has always been a car enthusiast. Her love for motorsports began with her father, who used to take her to car shows as a child. This love has transcended into a career for Paretta, who is the owner of the only female-led team in the NTT IndyCar Series, Paretta Autosport.
There have been multiple female drivers in the Indianapolis 500 in the 21st century. Although, a female-dominated team has never had a car qualify for "Greatest Spectacle in Racing." This changed in Last Row Qualifying on Sunday.
Paretta Autosport: Rookie Team Secures Final Spot in Indy 500
Paretta first tried to put a car in the Indy 500 in 2016. However, driver Katherine Legge was unable to qualify for Grace Autosport, which Beth was leading.
Paretta announced that her rookie team would be attempting to gain entry to the 105th running of the race on January 19th with driver Simona De Silvestro.
De Silvestro is no rookie to the Indianapolis Motor Speedway. The Swiss driver has five Indianapolis 500 starts, including the Rookie of the Year honor in 2010 after a 14th place finish.
However, when she began her four-lap qualifying attempt, the odds were against her and Paretta Autosport. De Silvestro did not have a great day on Saturday, which landed her in Last Row Qualifying on Sunday.
Five drivers entered the session, but only there were only three positions left in the Indy 500. Sage Karam had the fastest speed at 229.156 mph, and 2018 champion Will Power was second at 228.876 mph.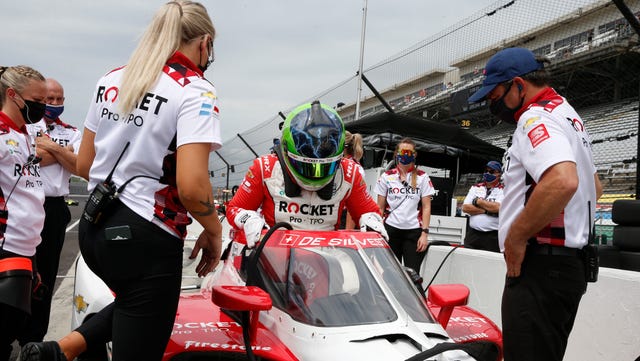 De Silvestro secured the final spot in the race on her first run at 228.353 mph. Yet, Paretta and her driver could not celebrate for another hour until the session time ended.
Charlie Kimball went out for one final attempt to bump De Silvestro with five minutes left on the clock, but he did not have a fast enough car to earn the 33rd spot. When the clock hit 00:00, De Silvestro stepped out of her car and gave her owner a massive hug.
Paretta Autosport had just made history, but this is just the beginning for the rookie team.
Paretta Autosport: Comments After Qualifying
Paretta Autosport will be making its IndyCar debut, but the team will become more active next season. Paretta Autosport is the first team in IndyCar's new "Race for Equality and Change."
The program is led by IndyCar and Indianapolis Motor Speedway owner Roger Penske. "Race for Equality and Change" is designed to diversify the sport's owners, drivers, and support workers.
After learning that Kimball had come up short, De Silvestro was elated.
"What a day! It was definitely nerve racking being in this position. I'm super happy that we made it in the field because of everyone involved, and because of all the hard work that got put in. It would have been crazy to not have made it. From that point of view, we're super relieved. Now we just focus on racing, and I think we could be pretty good because our car was pretty competitive."
De Silvestro will be making her sixth Indianapolis 500 start on Sunday, and the last line of her statement shows that she is coming to shake up the field from the 33rd position in the race.
Beth Paretta was even happier than De Silvestro because she has been thinking about getting a car in the race since she failed in 2016. On Sunday, the hard work in the past five years had finally come to fruition.
"It's unbelievable. It's like climbing a mountain and getting to the top, and looking around to see how beautiful it is. It's just amazing and a testament to everybody working hard overnight, digging in, and never giving up. That's what it is. And that's what got us here, and that's what got us onto the grid today."
The 105th running of the Indianapolis 500 will take place on Sunday, with the green flag waving at 12:45 PM ET.
Tanner Kern is a writer for Knup Sports and the Sports 2.0 Network. He is the host of Between the Lines, the official show of Baseball Spotlight, and the main contributor for the website. Connect with Tanner on IG @tannerkern and Twitter @tannerkern_.