In the wake of the Russian attack on Ukraine, many Ukrainian athletes have returned home to fight for their country and help protect their people. 
Since this invasion began, multiple groups including FIFA, UEFA, Formula 1, and the NHL have released some sort of sanctions against Russia. Russia began its invasion of Ukraine last week and has received widespread criticism and outrage from countless countries and organizations.
President Biden recently released sanctions and tariffs against dealing with the Russians since the invasion started. Many people agree Russia seems unlikely to be able to keep up this without permanently damaging their economy.
Klitschko Brothers
Former world champion boxers Vitali and Wladmir Klitschko are Ukrainian born boxing legends. They dominated Heavyweight Boxing in the early 2000's until about 2013, and held all of the heavyweight titles between the two of them.
Vitali is also the Mayor of the Ukrainian city of Kiev. He and his brother have elected to take up arms and help protect their country, joining many other Ukrainian athletes in doing so. Vitali and Wladmir informed the press that they've already killed for their country, and are willing to die trying to protect it.
"Kyiv has not been bombed since 1941, when the Nazis bombed and attacked Kyiv. It's so weird to actually hear explosions in the city day by day and shootings, and seeing all the images all around the country where people suffer. Our strongest force is the will and desire to live in a free country, and we have chosen the direction we want to go." -Wladmir Klitschko
It is beyond honorable to see these men taking up arms to defend their country. Both have said that this is turning into a catastrophic humanitarian event, and that every hour counts in their defense of their homeland.
Vasyl Lomachenko
Lomachenko was, until October of 2020, was one of the best pound-for-pound boxers in the world. He was the undisputed Lightweight champion for more than two years, and is still ranked in the top 10 pound-for-pound fighters on the planet.
Lomachenko has also elected to take up arms and defend Ukraine. He fought less than three months ago in the boxing ring, and now joins the Belgorod-Dnestrovsky defense battalion.
The two time champion and olympic gold medalist returned home a few weeks ago to be with his family because of the attack. He has since chosen to fight with the defense battalion to keep his country safe.
Oleksandr Usyk
Usyk is Ukraine's fourth boxer to join the military since the Russian invasion began. Usyk took to the press to speak to the people of Russia and Putin, asking them to not send their sons to Ukraine to fight.
He requested Putin stop the war and discuss negotiations on Ukraine's terms.
Oleksandr Usyk defeated Anthony Joshua in September to strip the brit of his belts. Usyk holds three of the four heavyweight belts and is undefeated in 19 professional fights. 
The 35 year old gave a chilling speech, mentioning "our wives and children and grannies are hiding in the basements. We are defending our country. Stop this war!"
Yaroslav Amosov
Amosov is a Ukrainian born mixed martial-artist that fights in Bellator MMA's Welterweight division. He has been the Bellator welterweight Champion since June of last year, and is 29-0 in his MMA career.
Amosov elected to remain in Ukraine and fight for his country. He posted on Instagram last week that he brought his family to a safe zone to make sure they're protected.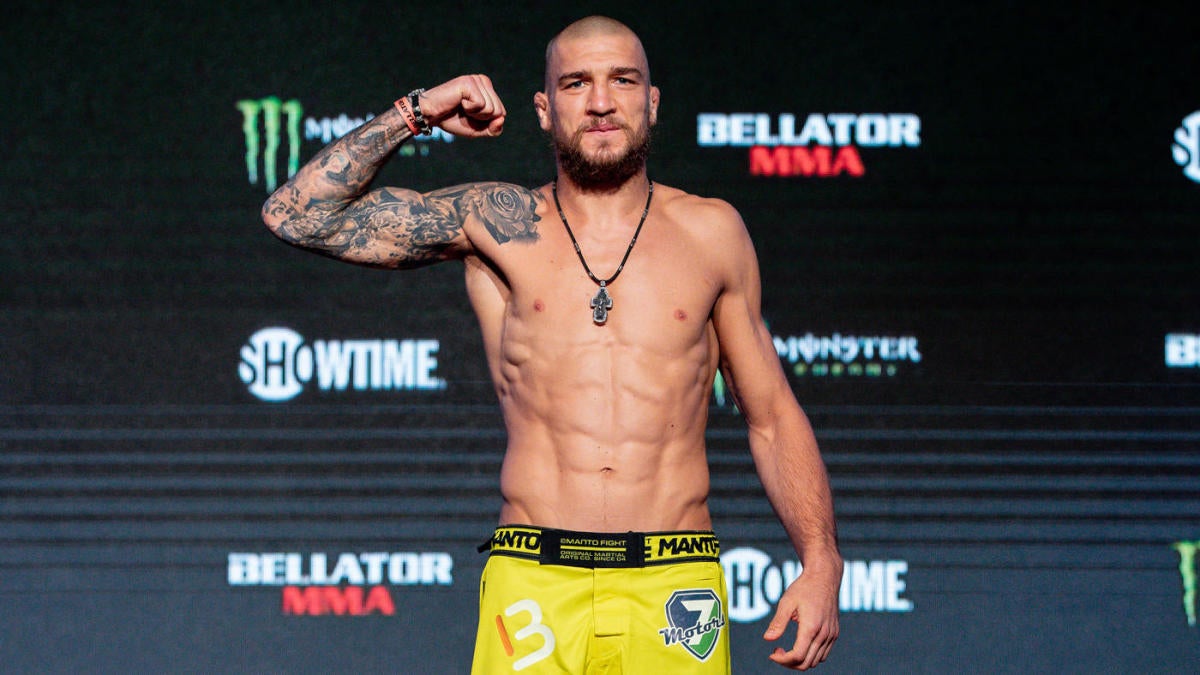 The Ukrainian then returned home to help protect his country. The Bellator prospect is 7-0 in the promotion and is hoping to return to fighting on May 13th vs Michael Venom Page. 
Honor and Pride
It's a sad yet beautiful thing to see these skilled Ukrainian athletes who have made millions from fighting professionally are picking up guns and other weapons to help defend their motherland from foreign invaders.
Ukraine now has four World-Champion Boxers in their military, as well as one MMA champion. I wish the best to them in their attempt to protect their country from the Russian invasion, and hope they all remain safe.
---
Join our Discord
to leave a question or comment regarding this article. We have sports fans talking betting all day — every day! JOIN THE DISCORD NOW AND QUALIFY FOR PRIZES & BETTING SWAG!
---