Maryland lost last eeks matchup vs #5 Iowa 51-14
Ohio State enters this game on a three-game win streak
Ohio State is 2-2-1 against the spread this season
The Maryland Terrapins visit the Ohio State Buckeyes in a Saturday afternoon Big Ten contest. The Terrapins will look to get better luck as they face yet another top 10 opponents in their Big Ten season.
Ohio State has been rolling since their loss to Oregon in Week 2. They have scored at least 40 points in each of those games while only giving up 20 points at most on defense. They seem to have found their groove as of late and are becoming a dangerous team with every passing week.
Maryland vs Ohio State Matchup at a Glance
Sport: College Football
Teams: Maryland at Ohio State
Where: Columbus, OH Ohio Stadium
Date: October 9, 2021
Betting Odds: Spread: OSU -21, Moneyline: MD +800 OSU -1375, Total: O/U 71 points (at PointsBet | at Caesars | at DraftKings | at Fanduel | at PointsBet)
Maryland Terrapins Preview: Wishing for a Miracle
The Maryland football team is hoping that they have no lingering effects from their blowout loss last week to #5 Iowa. The Terrapins turned the ball over seven times and Taulia Tagovailoa threw five interceptions in the contest.
Maryland has a pretty good defensive unit that is only allowing an average of 21.6 points per game. The unfortunate part is their offense is only averaging 32.6 points per game and clearly has turnover issues that they need to solve.
If the Terrapins, the defense can make some early stops and their offense can get some quick touchdowns without turnovers they could very well make this game more interesting than expected.
Ohio State Buckeyes Preview: Business as Usual
The Ohio State Buckeyes welcome another Big Ten opponent to their home field in Columbus. Since their loss to Oregon, the Buckeyes have been seemingly perfect on the field and have shown no signs of slowing down.
Quarterback C.J. Stroud is tossing the ball all over the field and has thrown the ball for over 1,200 yards with 13 touchdowns and only three interceptions. Trevelyan Henderson has helped take some weight off of the passing game with his rushing attack.
The freshman running back currently has over 500 yards rushing with seven touchdowns. Ohio State is finding success with a balanced attack on the offensive side of the ball.
Their defense is averaging 21.2 points against and in their past three contests have yet to allow over 20 in a single game. This defense when they are comfortable can do some damage to opposing offenses.
Ohio State will aim to instill their will against Maryland early and often and try to put this game away early in the 2nd half.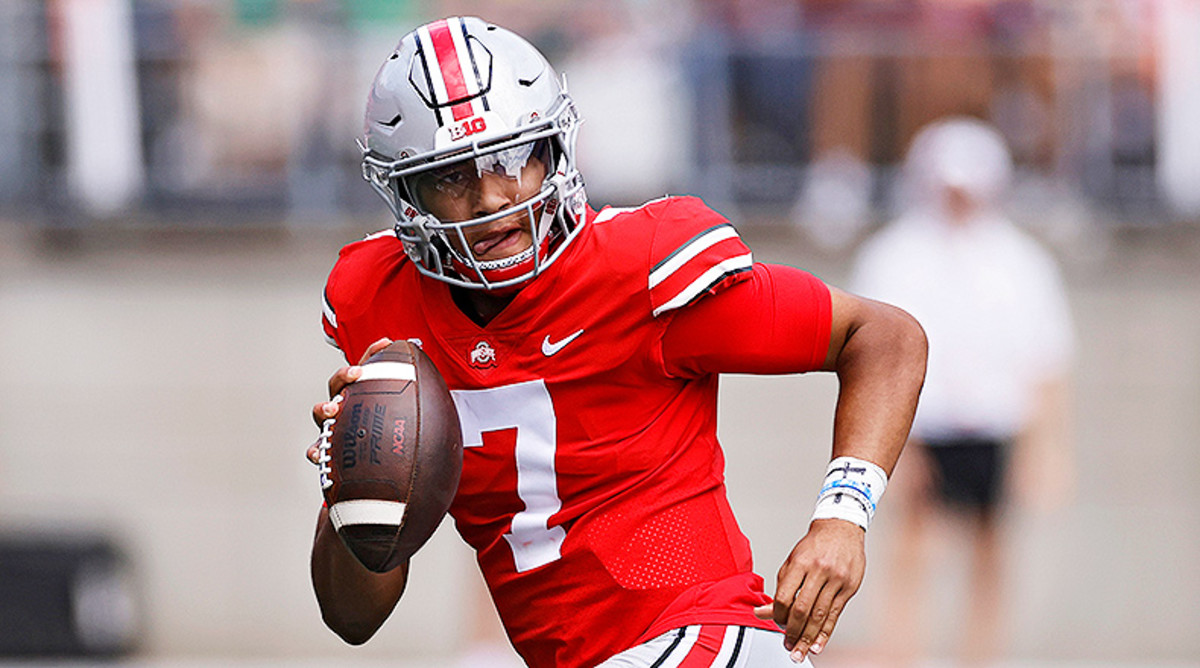 Odds & Free Betting Analysis for This College Football Game
When you look at the individual team's records you may think that this game could be a close battle. Unfortunately for Maryland, recent performances do not put much faith in that feeling.
Ohio State comes in with a spread of -21 and definitely has the ability to cover that on Saturday. With a matchup against a team that is known to turn the ball over and the way the Buckeyes offense has been scoring in recent weeks, the potential to cover the spread is all but guaranteed.
Barring any unforeseen mistakes on Ohio States part, the Buckeyes will take care of business on Saturday and perform as many do expect them to do.
Maryland vs Ohio State Pick
KnupSports.com Free Betting Pick: Ohio State -21 (at PointsBet | at Caesars | at DraftKings | at Fanduel | at PointsBet)
Be sure to check out our other free picks and betting plays to bet on today!
Search Game & Player Props for Maryland vs Ohio State
Use the prop finder below to search all available bets for this Maryland vs Ohio State game.
---
Join our Discord
to leave a question or comment regarding this article. We have sports fans talking betting all day — every day! JOIN THE DISCORD NOW AND QUALIFY FOR PRIZES & BETTING SWAG!
---