You won't find any point spreads when it comes to betting on golf, but you are going to find plenty of betting opportunities. Not only will you find different betting options, but you will soon have an entirely new tour to wager on.
Greg Norman has been stirring the pot over the last few months about the LIV Golf Invitational Series, and the first event is slated to begin this Summer. It's still unclear what this series will look like, but new details continue to be leaked all of the time.
This league is financed by Saudi Arabia and it is a series that is going to come with some huge prizes to the golfers that sign up. The PGA Tour is the biggest golf organization in the world, but there is a chance that it could begin losing golfers at some point.
Phil Mickelson is one of the biggest names that is expected to join the LIV Golf Invitational Series, but he is still intending to play in the PGA Tour as well. Mickelson has announced plans to golf at the PGA Championship, but has also requested an exemption to tee it up in the new event.
What is going to set the LIV Golf Invitational Series apart from the PGA Tour is that it is going to have massive prize money for the top golfers in each tournament. The field will also be much smaller than a normal PGA Tour event, and everyone in the field is going to walk away with a nice payday.
A total of $255 million is up for grabs during this event, with the top team walking away with $50 million during the championship event. A recent report claims that 15 of the top 100 ranked golfers in the world are expected to play at some point.
Five of the first eight events will take place in the United States, and there are some conflicts with PGA Tour events as well. This will put golfers in a very difficult situation, and it might not even become a realistic possibility.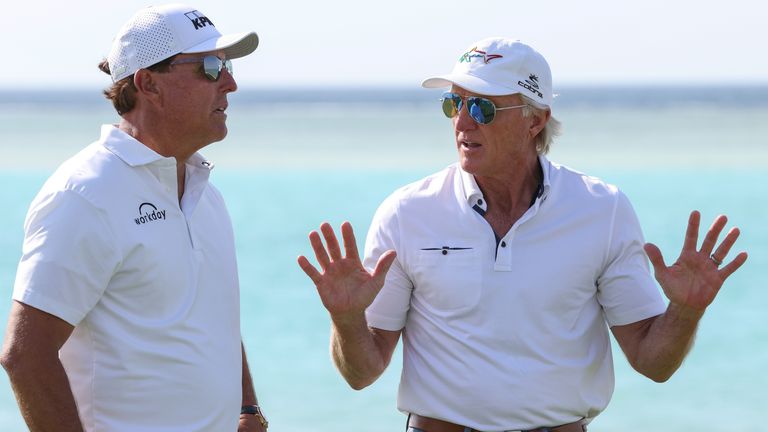 "Outrageous Ticket Prices"
There is plenty of excitement from golf fans surrounding the LIV Golf Invitational Series, but the complaints have already started as well. These events will be taking place at unique golf courses around the world, and it's not going to be cheap to get on the course to watch.
Fans looking to purchase tickets for the first event in London have already been complaining, claiming that it is much cheaper to go to the biggest events on the PGA Tour. It's unclear how this will play out, but the LIV Golf Invitational Series will have to become popular with fans for this to work.
PGA Tour Fighting Back
Of course the PGA Tour is not going to allow its top golfers to willingly go and join another league or organization, and this is where the story will get interesting. There is a rule in place forbidding golfers from doing such a thing, but each professional can also apply for an exemption.
One of the events coincides with the John Deere Classic in Illinois, and that is always an event that is popular on the PGA Tour. Another is one week before the U.S. Open, and the PGA Tour won't want anything to take away from the build up.
A Look At the Upcoming Schedule
All of the tournaments will consist of three rounds of 18 holes per day. That is one day shorter than a traditional PGA Tour event, but all of the golfers will get to play all three rounds.
Here are the eight events that are currently on the schedule for the LIV Golf Invitational Series:
Centurion Golf Club: London- June 9-11
Pumpkin Ridge Golf Club: Portland, OR- July 1-3
Trump National Golf Club: New Jersey- July 29-31
The International: Boston- September 2-4
Rich Harvest Farms: Chicago- September 16-18
Stonehill Golf Course: Bangkok- October 7-9
Royal Greens Golf Club: Jeddah- October 14-16
Team Championship: Location TBA- October 28-30