The Washington Wizards and Washington Nationals have both just unveiled new jerseys in very similar styles. The Cherry Blossoms in DC are an iconic part of the city's culture and history, and now they'll be featured on two major sports teams jerseys.
The Nationals and the Wizards both released cherry blossom inspired jerseys this week, and they both look fantastic. The Wizards jerseys are bright pink with blue highlights, really leaning into the theme very boldly. The Nats on the other hand have a dark gray jersey with iconic WSH lettering, and cherry blossoms coming from behind the letters.
Wizards Go Bold
The bright pink cherry blossom jerseys of the Washington Wizards are a bold and profound choice. The jerseys look very similar to the Wizards traditional red jerseys, but with hot pink instead of red as the main color.
The bright pink uniforms are the first pink uniforms from a DC team in my memory. They're bold and unique, and have a cool design throughout the jersey as well as the shorts. The shorts fade from pink to blue and feature cherry blossom outlines on the sides as well.
Bradley Beal modeled the jerseys that will be released in November of 2022 in stores, but the Wizards will not debut their new pink alternate jerseys until the 2022-23 season. The Wizards and Nationals have collaborated with Nike to create the first connected theme design across two sports teams in one city.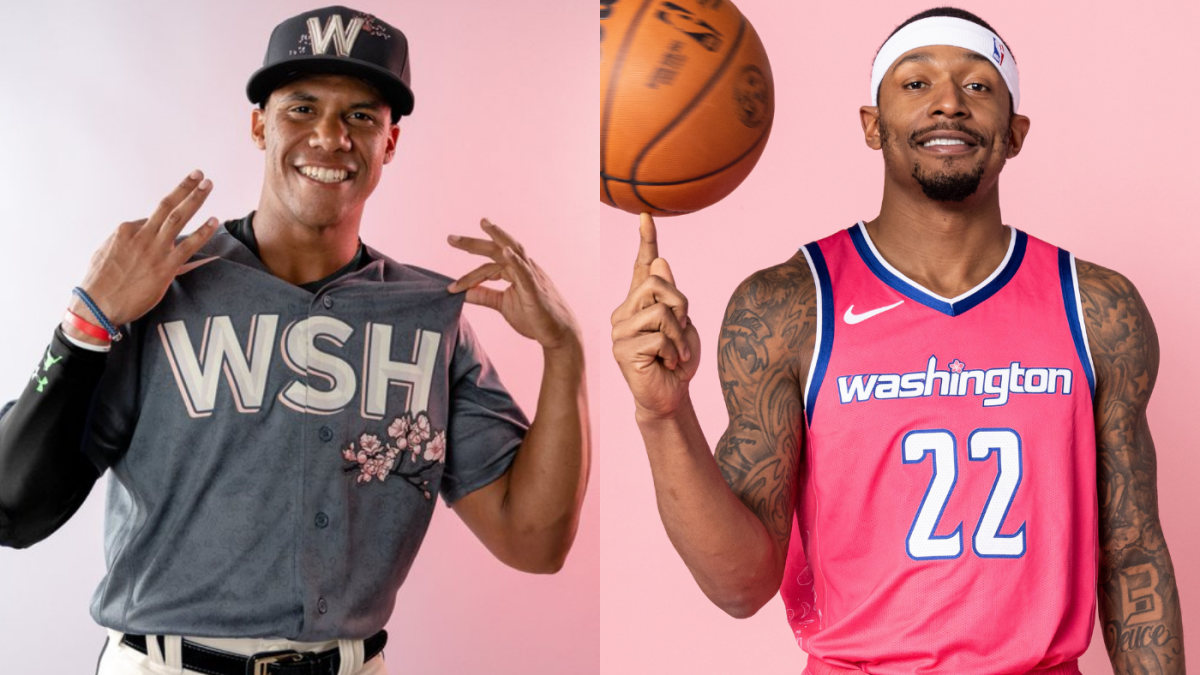 Both the Wizards and the Nationals were designing these jerseys individually, but realized they were working on similar ideas and began collaborating. There's a reason the both thought of the idea and were able to execute it at a high level: it's a good idea.
Nationals Take a Classic Approach
The Nationals unique jersey design is cornerstone by the iconic lettering that the team chose. The big, bold font of the 'WSH' in the middle of the jerseys is representative of DC's iconic architecture.
The color is something the Nationals have never used before, but is a fresh departure from the red, blue, and white uniforms of old. The cherry blossoms emerging from behind the lettering are reminiscent of the actual blossoms blooming in the spring. The Hats that go along with these jerseys are so perfectly crafted as well. They feature the same WSH logo with the cherry blossom, and complete a well thought out and authentic uniform.
The Nationals will debut their jerseys this season on April 9th, and will wear these alternates in multiple games this season. The Nationals have to be hoping that these new uniforms can somehow spark and inspire this struggling team.
Other MLB teams will be releasing their City Connect jerseys this year as well, including the Houston Astros, Kansas City Royals, Colorado Rockies, Milwaukee Brewers, San Diego Padres, and Los Angeles Angels. The MLB will be announcing these jerseys as the most drastic style change since the late 1990's.