Inching closer to .500 but work to be done for sure. Here are the NBA best bets for Thursday night.
Updates to all NBA metrics can be found below, they are the guide to these selections.
This week: 8-15-1 (-8.5 units)
NBA Season: 99-85-1 (+13.75u)
Follow me on Twitter: @griffybets
Let's get to Thursday's picks.
NBA Best Bets: Thursday April 29
Milwaukee Bucks-Houston Rockets OVER 234 points
This bet is a combination of a few things. First, pace. Milwaukee ranks 2nd and Houston 11th. Second factor, the Bucks offense against the Houston defense. They alone should put up a hefty total. The final kicker is that each team has a stark advantage shooting the three.
Put it all together and you've got an over pick.
Dallas Mavericks -7.5 at Detroit Pistons
The Mavericks on paper are just the better team at everything. I'll gladly roll with Dallas tonight.
Golden State Warriors-Minnesota Timberwolves OVER 234 points
This is again a bet primarily on pace. Both teams rank inside the top six when it comes to playing fast. There's also an advantage for Golden State shooting the three against this porous Minnesota defense. Instead of picking Curry's gargantuan over/under, let's just target the entire game.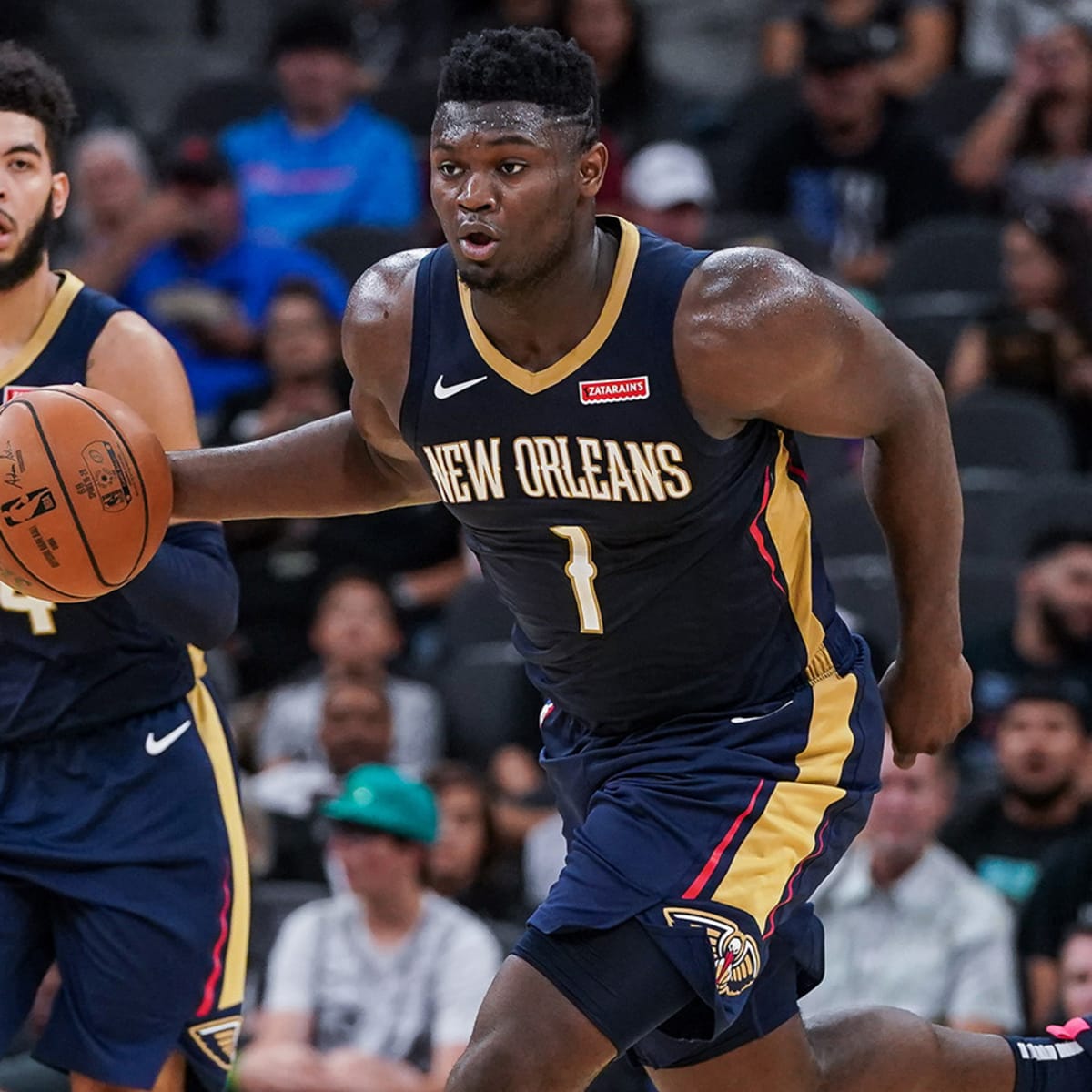 Zion Williamson OVER 28.5 points vs. Oklahoma City Thunder
Our lone prop tonight is on Zion, going against a Thunder defense that ranks 26th in points in the paint. This should be a big game for the paint-beast.
The Rankings: NBA Best Bets
For the sake of showing my work and being a resource to you all, the rankings for the week are below. Beyond offensive and defensive rankings, we've got pace of play rankings and teams rankings on threes and points in the paint (on both sides of the ball).
Shoutout to TeamRankings.com for their treasure trove of statistics.
Rankings are created by averaging out the following:
Points per game
Effective field goal percentage
Efficiency (off/def)
Pace is calculated by:
Field goals attempted per game
Possessions per game
Offensive Ranking
Defensive Ranking

Brooklyn
LA Clippers
Milwaukee
Utah
Denver
Phoenix
Sacramento
New Orleans
Portland
Atlanta
Dallas
Boston
Chicago
Philadelphia
Memphis
Golden State
Indiana
Toronto
Charlotte
Washington
LA Lakers
San Antonio
Miami
New York
Minnesota
Detroit
Houston
Okla City
Cleveland
Orlando

LA Lakers
New York
Utah
Philadelphia
Phoenix
Miami
LA Clippers
Golden State
San Antonio
Boston
Dallas
Milwaukee
Atlanta
Memphis
Toronto
Indiana
Denver
Charlotte
Detroit
Chicago
Cleveland
Brooklyn
Washington
Okla City
Orlando
Houston
Portland
New Orleans
Minnesota
Sacramento

Pace

Memphis
Milwaukee
Indiana
Minnesota
Washington
Golden State
Sacramento
San Antonio
New Orleans
Chicago
Houston
Portland
Orlando
Okla City
Brooklyn
Toronto
Utah
Philadelphia
Denver
Boston
Charlotte
Phoenix
LA Lakers
Atlanta
Detroit
Dallas
LA Clippers
Cleveland
New York
Miami
Offensive Preferences vs. Defensive Weaknesses
Offense: Points in Paint
Defense: Opponent's Points in Paint (worst to best)

Memphis
New Orleans
Indiana
Sacramento
Cleveland
Washington
Chicago
Brooklyn
LA Lakers
Denver
Minnesota
Milwaukee
Atlanta
San Antonio
Okla City
Philadelphia
Houston
Detroit
Boston
Golden State
Charlotte
Phoenix
New York
Dallas
Miami
Utah
Toronto
LA Clippers
Orlando
Portland

Sacramento
Indiana
Detroit
Chicago
Okla City
Minnesota
Cleveland
Utah
Portland
Houston
San Antonio
Atlanta
LA Lakers
Brooklyn
Washington
Memphis
LA Clippers
Golden State
Phoenix
Charlotte
New Orleans
Orlando
Philadelphia
Denver
Boston
Dallas
New York
Milwaukee
Toronto
Miami
Offense: Three-Pointers Made
Defense: Opponent Three Point % (worst to best)

Utah
Portland
Toronto
Milwaukee
LA Clippers
Golden State
Brooklyn
Charlotte
Dallas
Houston
Boston
Denver
Phoenix
Minnesota
Miami
Atlanta
Chicago
Okla City
Indiana
Sacramento
Detroit
New York
Memphis
Orlando
LA Lakers
Philadelphia
New Orleans
Washington
San Antonio
Cleveland

Minnesota
Sacramento
New Orleans
Cleveland
Houston
Toronto
Orlando
San Antonio
Washington
Milwaukee
Portland
Boston
Indiana
Detroit
Brooklyn
Charlotte
Philadelphia
Memphis
Dallas
Golden State
Denver
Miami
Okla City
LA Clippers
Chicago
Phoenix
LA Lakers
Atlanta
Utah
New York
Last piece: NBA Best Bets: Wednesday 4/28
---
Join our Discord
to leave a question or comment regarding this article. We have sports fans talking betting all day — every day! JOIN THE DISCORD NOW AND QUALIFY FOR PRIZES & BETTING SWAG!
---