We've followed up a 14-7 (+12 unit) NBA playoffs betting week with what has been a remarkably awful 0-8 stretch.
That's tough to do! It's officially time to fade me. All I want to do here is check in on the NBA series. Who's covered in the games that have happened? How's the over/under looking? What will my next wrong bet be?
Let's get to it… NBA playoff betting record is now just 29-27-3 (+6u)
Denver Nuggets vs Phoenix Suns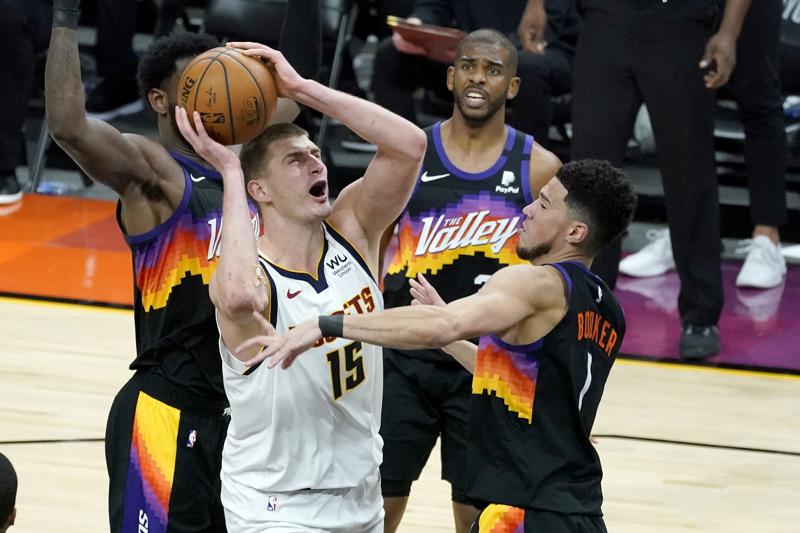 We get only one game tonight, between the Nuggets and Suns. I whispered to myself to bet the Suns to cover, then didn't tweet it or bet on it – it happened obviously.
Phoenix pulled away convincingly from Denver in Game 1, winning 122-105. Newly-crowned MVP Nikola Jokic has the juice to take over a game by himself, but on paper the Suns are just the better team on both ends.
Game 2 Lines
Spread: Phoenix -6
Over/Under: 222.5
ML: Denver +220 | Phoenix -210
Tip: 9:30 PM EST
Series Trends
ATS: Phoenix 1-0
O/U: 1-0
Pick for Game 2
I like the Suns in this series, which is a tough news for Phoenix fans everywhere – I'll be taking the Suns to cover the -6 tonight. As mentioned in my series preview, they have the edge on both ends and are the deeper, more complete team.
Brooklyn Nets vs Milwaukee Bucks
Game 3 between the Nets and Bucks will take place Thursday night, and it feels like this series may already be over.
Milwaukee screwed me and anyone who listened in Game 2, losing by nearly 40 points. Their second-ranked offense does not look the part, failing to take advantage of Brooklyn's 19th-ranked defense. Khris Middleton has been colder than me, and Giannis seems incapable of getting to the hoop on a consistent basis.
With or without Harden, Brooklyn's offense looks unstoppable right now. The numbers suggest to give Milwaukee another chance, I went for their over, game over and 1H over on Monday to no avail.
Watching them play removed any confidence I had heading into the series – I'm avoiding this series. Somehow the Bucks are favorites in Game 3.
Game 3 Lines
Spread: Milwaukee -3
Over/Under: 235
ML: Brooklyn +135 | Milwaukee -145
Tip: 7:30 PM EST, Thursday
Series Trends
ATS: Brooklyn 2-0
O/U: 0-2
LA Clippers vs Utah Jazz
This is going to be the best series of these entire playoffs. As we saw in the series preview, no teams have the elite balance on both ends quite like the Clippers and Jazz.
Donovan Mitchell's 45 points powered Utah to a second-half rally in Game 1, winning 112-109. I of course bet Utah to cover -4 before the spread closed at -3 because I am scorching hot.
I bet the Jazz to win this series, the one spot in my betslip that I still feel good about. Utah is just slightly better than the Clippers.
LA is bound to take some games here, and they did just win three road games against Dallas – look out for the Clippers in Game 2.
Game 2 Lines
Spread: Utah -3
Over/Under: 221
ML: LA +180 | Utah -210
Tip: 10 PM EST, Thursday
Series Trends
ATS: Push
O/U: 0-1
Philadelphia 76ers vs Atlanta Hawks
This series won't get going again until Friday night, but it's 1-1 headed to Atlanta. The Hawks dominated Game 1 and the Sixers put them to bed in the fourth quarter of Game 2.
This is a more evenly matched series than you might think – but Philly certainly looked the part of a #1 seed. Embiid does not seem fazed by his injury, dropping 30+ in both games so far.
I bet the Hawks in my series preview, but I also bet that this series would reach at least six games. Atlanta made this a two-point game at one point Tuesday night and will need a stronger showing from their 10th-ranked defense moving forward.
Game 3 Lines
Spread: Philadelphia -1.5
Over/Under: 224
ML: Philadelphia TBD | Atlanta TBD
Tip: 7:30 PM EST, Friday
Series Trends
ATS: 1-1
O/U: 1-1
If you want to help me off the betting schnide, a Twitter follow would go a long way: @griffybets.
---
Join our Discord
to leave a question or comment regarding this article. We have sports fans talking betting all day — every day! JOIN THE DISCORD NOW AND QUALIFY FOR PRIZES & BETTING SWAG!
---