The NBA conference semis are underway, let's keep up the momentum from Round 1. The first series we'll break down: Milwaukee Bucks vs Brooklyn Nets.
If I may, a moment to respectfully reflect on the success we had here in Round 1. The numbers brought in for all eight series were validated throughout, and confidence is high for the continued success.
Take the series that the numbers said to bet the under in. One was the Knicks-Hawks series, the under went 4-0-1. One was the Lakers-Suns, that under went 4-1-1.
Then my favorite series of them all, the over for all Grizzlies-Jazz games. The numbers were screaming to take the over, so I made this my nightly two unit bet. The over went 5-0. 🙂
Yes, I'm patting myself on the back, but I'm also trying to say: these numbers are working!
So, let's get to the numbers for this Bucks-Nets series. Use this as a resource. I've consolidated offensive and defensive ranks (equation at bottom of table), offensive and defensive preferences, and pace of play. I've also tacked on recent performance and betting trends.
These series previews will be all-encompassing. Logically, any advantage that would apply for one team should hold pat for the entire series.
Let's get to it. Follow me on Twitter, @griffybets, for all things NBA this postseason. Drop me a line with any feedback or ideas for stats you'd like to see included!
Milwaukee Bucks
Brooklyn Nets
Offense rank: 2

Threes rank: 5

Pts in paint: 12

***

Defense rank: 16

Perimeter D: 30

Opp. pts in paint: 3

***

Pace: 2

Offense rank: 1

Threes rank: 4

Pts in paint: 11

***

Defense rank: 19

Perimeter D: 16

Opp. pts in paint: 17

***

Pace: 17

Round 1 W/L
Round 1 W/L

4-0

4-1

Playoffs ATS
Playoffs ATS

3-1

4-1

Playoffs O/U
Playoffs O/U

2-2

3-2
| | |
| --- | --- |
| Odds to win Series | Odds to win Series |
| +165 | -200 |
Regular Season Head-to-Head
Bucks won, 2-1
Offensive/Defensive ranks calculated by averaging (points per game, EFG% and efficiency)
Pace calculated by averaging (field goals attempted per game and possessions per game)
Threes/Perimeter defense calculated by averaging (threes made per game and 3P%)
Shoutout to TeamRankings.com for the above stats. That site has everything you could ever ask for – this is just a taste of the numbers they consolidate for you. Consider perusing the site to dig into areas of the game you're curious about.
Series Schedule: Milwaukee Bucks vs Brooklyn Nets
Game 1: Saturday 6/5 at 7:30 PM EST
Game 2: Monday 6/7, 7:30 PM
Game 3: TBD
Game 4: TBD
Game 5: TBD
Game 6: TBD
Game 7: TBD
Thoughts on the Series: Milwaukee Bucks vs Brooklyn Nets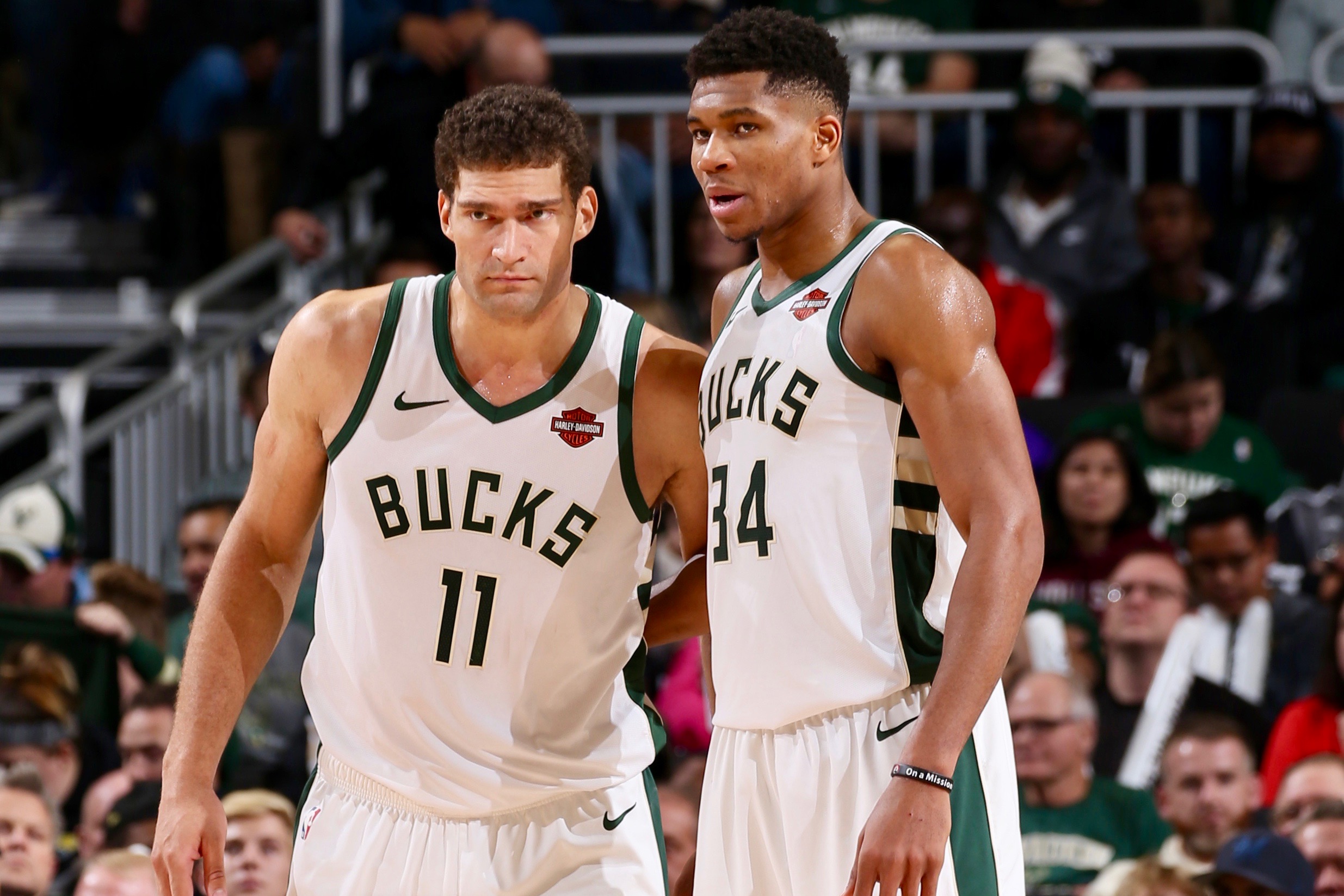 Besides the fact this series has the two-best offenses in the NBA, the first thing that catches my eye is the Bucks perimeter defense ranking 30th.
It's worth a closer look. Milwaukee did just shut down Miami's offense, holding the Heat to 33.6% from deep, a mark that would be tops in the NBA if it held across opponents. Was this a product of a struggling Miami offense, or a sign the Bucks defense has turned a corner?
Honestly, it's tough to say. Miami came in to the series ranking 16th shooting the three – slightly worse than league average. I do think there's a bit of context needed for Milwaukee's poor perimeter defense rank. Giannis and Brook Lopez head up a menacing interior defense, evidenced by their stingy points in the paint mark.
Offenses know this and adapt their game plan. They shoot more threes against the Bucks because they have to, which inflates this number.
All this is to say, I'm not quite fretting about the Bucks perimeter defense. They looked great against Miami and their defense overall has the slight edge to Brooklyn's.
More thoughts on Rankings: I've reflected on the above rankings,, and realized that even more context is needed to explain the Bucks defensive rankings. The ranking bringing Milwaukee down is points per game, one of the ten-most generous defenses to points. This feels far more like a product of their second-ranked pace of play than it does their defensive quality.
The Bucks rank sixth in opponent's effective field goal percentage and 11th in defensive efficiency. This is a strong defense, much better than Brooklyn's.
Obviously, the clear target in this series from the above rankings is the over. Unfortunately for us, it's so obvious that the line is egregiously high. Game 1 has an over/under set at 239.5 points.
In the three games these teams played in the regular season, their average total points was… 240.3.
So, the books have nailed this opening line.
I personally have made the decision to stop betting props, it leaves too much up to chance. With that being said, this is a clear series to target for props and daily fantasy lineups. Points will be flowing.
Stat Leaders for Each Team
If you want to include some Bucks/Nets in your DFS lineups or prop picks, the below players are where I'd recommend starting.
Numbers reflect postseason statistics only.
Milwaukee
Giannis Antetokounmpo: 43.3 PRApg
Khris Middleton: 21.5 ppg, 40.7 3P%
Brook Lopez: 15.8 ppg
Jrue Holiday: 15.3 ppg, 9.8 apg
Bryn Forbes: 8.3 3PApg, 48.5 3P%
Brooklyn
Kevin Durant: 32.6 ppg
James Harden: 45.6 PRApg
Kyrie Irving: 24.8 ppg
Joe Harris: 6.6 3PApg, 51.5 3P%
Favorite Bets for the Series
One quick thought on the stats above – my favorite prop bets would be Bryn Forbes and Joe Harris, both leading their teams in three-point shooting. The biggest advantage on paper is from deep, and both seem to be in good positions to take advantage of that. I may dabble with their overs on occasion, despite my note above about avoiding props.
As for the series as a whole, I'm leaning Milwaukee. They have a significant edge on the defensive end, and their offense can keep pace with Brooklyn's.
They just dismantled the defending Eastern Conference Champs in four games, and I love this value at +165.
The over is the obvious choice. I completely understand if it scares you off, it's crazy high. I'm trusting the numbers and riding it on a nightly basis.
GriffyBets Nightly Targets: OVER points, Forbes/Harris overs
Series winner: Milwaukee
Stay tuned for more NBA betting previews throughout the week. We'll be breaking down each semifinal series here on KnupSports.com. Please follow me on Twitter, @griffybets!
Related reading:
---
Join our Discord
to leave a question or comment regarding this article. We have sports fans talking betting all day — every day! JOIN THE DISCORD NOW AND QUALIFY FOR PRIZES & BETTING SWAG!
---