The NBA conference semis continue on, with the West joining the fold on Monday night. While Round 2 is off to a rocky start, the success from Round 1 was encouraging. Let's get to the Denver Nuggets vs Phoenix Suns betting preview.
If I may, a moment to respectfully reflect on the success we had here in Round 1. The numbers brought in for all eight series were validated throughout, and confidence is high for the continued success.
Take the series that the numbers said to bet the under in. One was the Knicks-Hawks series, the under went 4-0-1. One was the Lakers-Suns, that under went 4-1-1.
Then my favorite series of them all, the over for all Grizzlies-Jazz games. The numbers were screaming to take the over, so I made this my nightly two unit bet. The over went 5-0. 🙂
Yes, I'm patting myself on the back, but I'm also trying to say: these numbers are working!
So, let's get to the numbers for this Nuggets-Suns series. Use this as a resource. I've consolidated offensive and defensive ranks (equation at bottom of table), offensive and defensive preferences, and pace of play. I've also tacked on recent performance and betting trends.
These series previews will be all-encompassing. Logically, any advantage that would apply for one team should hold pat for the entire series.
Let's get to it. Follow me on Twitter, @griffybets, for all things NBA this postseason. Drop me a line with any feedback or ideas for stats you'd like to see included!
Denver Nuggets
Phoenix Suns
Offense rank: 6

Threes rank: 10

Pts in paint: 8

***

Defense rank: 13

Perimeter D: 13

Opp. pts in paint: 6

***

Pace: 18

Offense rank: 4

Threes rank: 8

Pts in paint: 22

***

Defense rank: 6

Perimeter D: 8

Opp. pts in paint: 15

***

Pace: 23

Playoff W/L
Playoff W/L

4-2

4-2

ATS record
ATS record

4-2

4-2

O/U record
O/U record

5-1

1-4-1
| | |
| --- | --- |
| Odds to win Series | Odds to win Series |
| +170 | -210 |
Regular Season Head-to-Head
Nuggets won 2-1
Offensive/Defensive ranks calculated by averaging (points per game, EFG% and efficiency)
Pace calculated by averaging (field goals attempted per game and possessions per game)
Threes/Perimeter defense calculated by averaging (threes made per game and 3P%)
Shoutout to TeamRankings.com for the above stats. That site has everything you could ever ask for – this is just a taste of the numbers they consolidate for you. Consider perusing the site to dig into areas of the game you're curious about.
Series Schedule: Denver Nuggets vs Phoenix Suns
Game 1: Monday 6/7, 10 PM EST
Game 2: 6/9
Game 3: 6/11
Game 4: 6/13
Game 5: 6/15
Game 6: 6/17
Game 7: 6/20
Thoughts on the Series: Denver Nuggets vs Phoenix Suns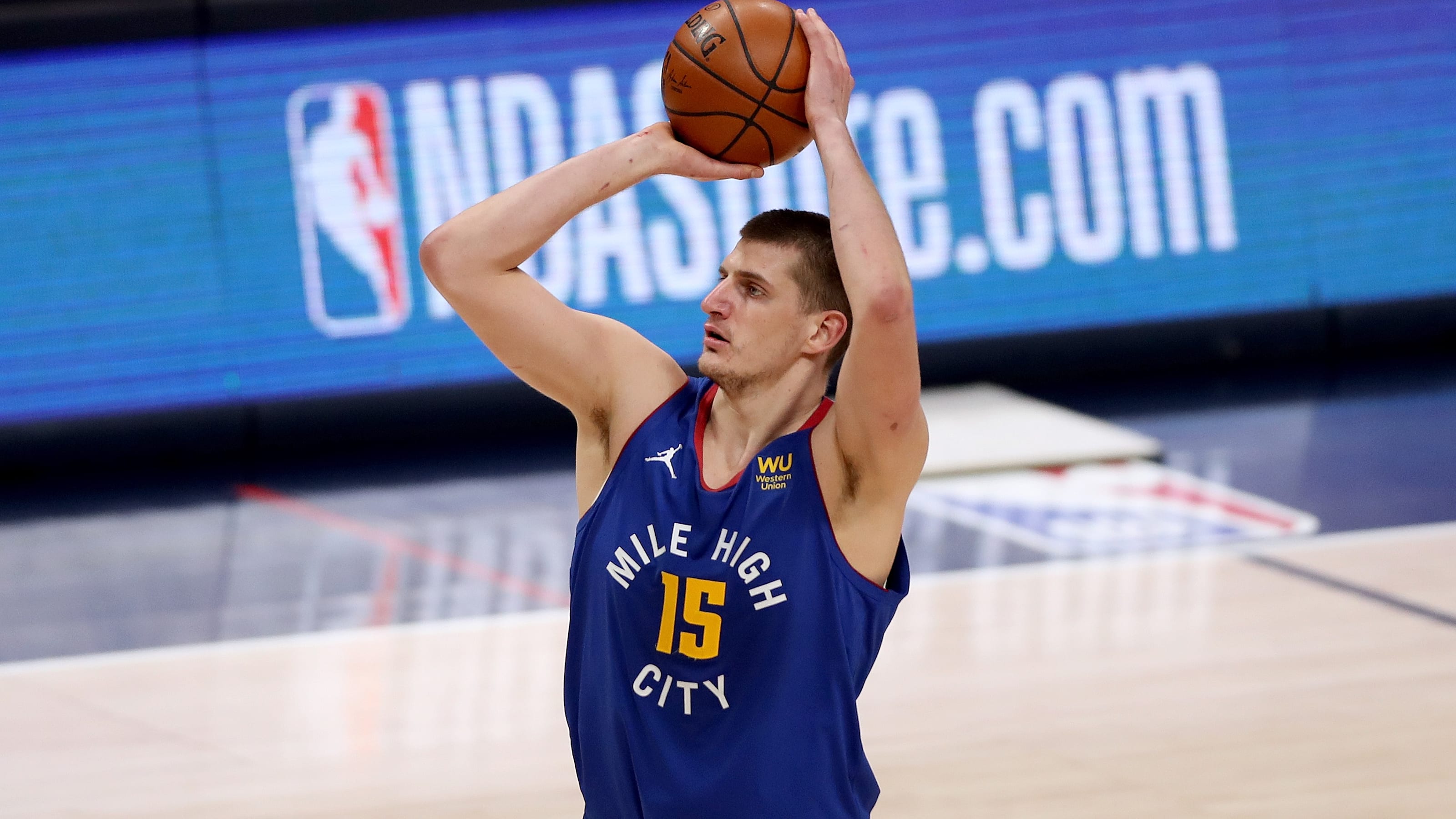 We bet on both the Nuggets and Suns to win their respective Round 1 series as underdogs, and now we get a great series in the conference semis.
On paper, Phoenix is the superior team on both ends. Their preference for the three aligns ever so slightly with the Nuggets defensive weakness. The same can be said for Denver's points in the paints against the Suns 15th-ranked interior defense.
Neither is an egregious difference, which makes betting the totals throughout this series tricky business.
Nikola Jokic, the presumptive MVP, had a monster Round 1 against the Blazers and shows no signs of slowing down. Remember, this Nuggets team made it to the Western Conference Finals in the bubble, and while they no longer have Jamal Murray healthy, they know what it takes to piece together multiple series wins.
The Suns have been one of the best teams in the NBA all season – one of just two teams to be ranked inside the top-six on both ends.
Yes, Denver won this season series, but the three games almost feel irrelevant, considering the last of them came way back on January 22.
For what it's worth, the average total points in those three games was 232.3 points. The over/under for Game 1 is set at 221.5 points.
Stat Leaders for Each Team
If you want to include some Nuggets/Suns in your DFS lineups or prop picks, the below players are where I'd recommend starting.
Numbers are for the playoffs only.
Denver
Nikola Jokic: 33.0 ppg, 10.5 rpg, 53/43/92%
Michael Porter Jr: 18.8 ppg, 6.8 3PApg, 41.5 3p%
Monte Morris: 15.3 ppg, 5.8 apg
Phoenix
Devin Booker: 40.9 PRApg, 49/43/94%
DeAndre Ayton: 15.8 ppg, 10.7 rpg
Chris Paul: 9.2 ppg, 7.7 apg
Favorite Bets for the Series
I like the Suns to advance in this series, but at -210, betting them to win doesn't feel like great value.
Phoenix is -5.5 in Game 1 at home, a bigger spread than I anticipated.
This is an interesting case of two contrasting play styles, based on the trends from Round 1. The Nuggets hit their over in five of six games, while the Suns surpassed the over just once in six tries.
Denver's defense isn't at the level of the Lakers, just as the Suns defense is far better than the Blazers defense the Nuggets just feasted on.
We'll likely meet somewhere in the middle, and I'd probably lean on the over if forced to make a pick, especially at a reasonable 221 points.
Phoenix feels like the more balanced and complete team, it just all comes down to stopping Jokic. Is Ayton the man to guard the MVP all over the court?
Jokic did have this to say about his upcoming foe:
Nikola Jokic on Deandre Anton: "He guards me really well."

Said he's given him "trouble" in the past.

During one of their prior matchups, Jokic actually told him how much he likes their team because he said they're a bunch of good dudes.

— Mike Singer (@msinger) June 5, 2021
Denver let Dame Lillard eat all series and now faces as menacing as a backcourt as they get with Chris Paul and Devin Booker.
I'm really looking forward to this series in a wide open Western Conference. I'm rolling with the Suns. Hopefully the spreads get a bit closer, because we'll be betting them nightly here.
GriffyBets Nightly Targets: Phoenix ATS
Lean: OVER points
Series winner: Phoenix
Related reading:
Griffin's working to find betting value where others may not. With a main focus on the NFL, consider Griffin your go-to resource for matchup breakdowns, including in the trenches and receivers vs. corners. Follow @griffybets on Twitter for more articles and videos. NBA breakdowns will be the primary focus during the NFL offseason.