The New England Patriots rookie minicamp is scheduled for this Friday through Sunday, May 14-16. Minicamp is the first time that rookies can display their talent as professional football players.
The 2021 rookie minicamps will look slightly different than a traditional year. In a season with COVID-19 restrictions, the draftees, undrafted signees, and tryout invitees come together to compete. This will be modified for all 32 teams in 2021.
Most players at minicamps in a typical year are tryout invitees, but the field will be much smaller this year. The National Football League has limited the number of tryout players to five. There is no limit on the number of undrafted free agent signees at minicamp, but New England has only signed Quinn Nordin, a kicker out of Michigan.
As the first practice approaches, here are the things you should watch for at Patriots rookie minicamp.
Patriots Rookie Minicamp: Who is on the Field?
COVID-19 restrictions are not over in the NFL. If the Patriots are allowed five rookie invites to try out for the team, which players will be on the field. A team can show up to camp in the summer with a maximum of 90 players, which is dwindled to 53 over the summer.
However, not all teams will carry 90 players to start training camp. The Patriots have five spots open for players because their current roster holds 85.
The Patriots need offensive weapons, so it would not surprise me if one of the five players is a wide receiver. They could also use a reserve offensive tackle to start camp. The franchise selected William Sherman from Colorado, but his height at 6'3" makes him positioned better on the inside.
The field of prospects in 2021 is much smaller because of COVID-19. There were 657 players who declared for the draft this season compared to 1,932 in 2020. With New England's training camp roster nearly set, do not expect the team to sign a second undrafted free agent until after rookie minicamp.
Patriots Rookie Minicamp: How Does Mac Jones Perform?
First-round draft picks are under a microscope compared to the other pool of talent during the opening minicamp. Even though Bill Belichick has said that Cam Newton will be under center against the Dolphins on opening day, all eyes will be on Jones this weekend.
Mac Jones has been the center of criticism for his arm strength. What did he do in the buildup to the draft to add zip on the ball?
Also, will Jones' accuracy shine in rookie minicamp? Jones will be working with receivers like Tre Nixon that he has never thrown to, so this will be a process. Despite this fact, coaches will want to see him put the ball on the money by the end of the weekend.
The mental aspect of playing quarterback in the NFL is just as important as the physical. Will Mac Jones be able to grasp his first taste of professional passing concepts? I think this is the area where the Alabama graduate will shine this weekend.
Patriots Rookie Minicamp: Does Christian Barmore Turn Heads?
The one player in the Patriots draft class who is expected to shine in 2021 is Christian Barmore. Barmore, a defensive lineman out of Alabama, was touted as the DT in the draft. Consistency was his biggest issue for the Crimson Tide in 2020.
When he elevated his pad level, he got burnt. The positive news for New England was that he was beaten in college for technical reasons. It's hard to find Barmore taking snaps off on film.
Barmore is going to perform well this weekend because of his athleticism. Rookie minicamps are all non-contact, but I want to see his efficiency combining his hands and feet throughout the weekend.
Patriots Rookie Minicamp: How is Ronnie Perkins On-Field Speed?
Ronnie Perkins, a defensive end out of Oklahoma, did not run well at his pro day. His official 40-time was a 4.74. This number eliminated his chance of being selected in the first round because a top-tier EDGE is clocking a 4.5.
Perkins still was drafted by New England in the third round. To be effective off the edge, a rusher must effectively use their speed and power. Perkins won with a combination of strength and balance at Oklahoma.
I want to see how his on-field speed looks in drill work. A 40-yard dash does not always translate to speed off the edge. Yet, it does help simulate a player's first step, which is critical for sacks.
What will Ronnie Perkins' first step look like this weekend? He can develop his speed, but his explosion will be critical for success in New England.
Patriots Rookie Minicamp: Is Tre Nixon a Realistic Contender for a Roster Spot?
The Patriots desperately need to fill the void that was left when Julian Edelman retired earlier this year. Tre Nixon, a wide receiver out of Central Florida, was a steal in the seventh round.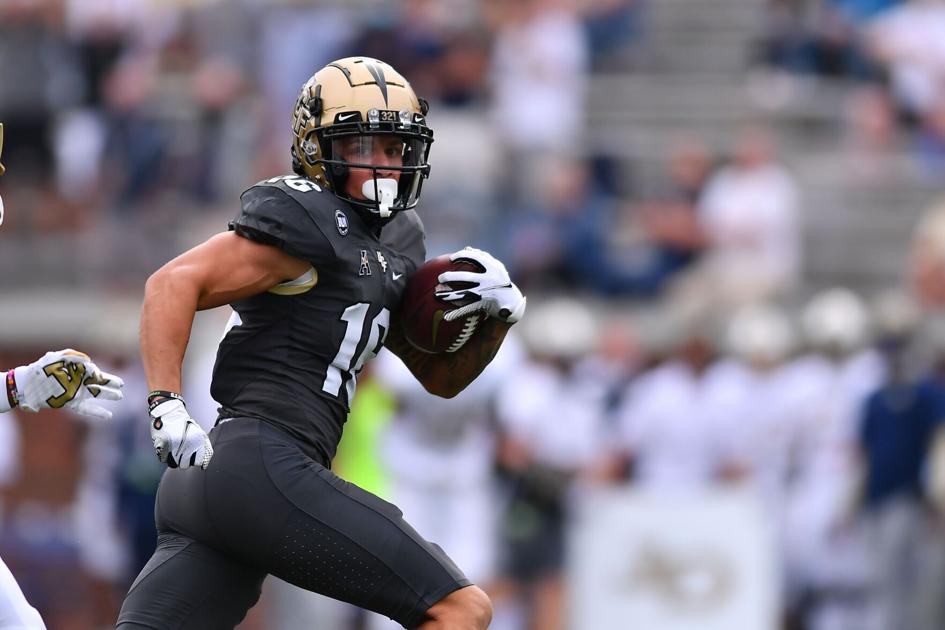 Cam Newton needs weapons, and Nixon could be the answer. The receiver mainly lined up outside the numbers in college, but I see him in the slot for New England. His ability to create yards after the catch is what makes him so unique.
Watch for Nixon's agility this weekend. I think he will display what we say on tape. The former Golden Knight's issue is catching the football. He will not have a job if he does not display soft hands. This was the biggest complaint about the receiver in the buildup to the NFL Draft.
Patriots Rookie Minicamp: Final Thoughts
Transitioning to professional football is a significant step for all players who enter the league. There will be no veterans on the field this weekend, but the rookies will still have to begin grasping NFL terminology and concepts.
All the player's minds will be moving 100 miles per hour, but which Patriots' rookies will perform under pressure to start their NFL journey?
That's the central question you should look for during the Patriots rookie minicamp.
Tanner Kern is a writer for Knup Sports and the Sports 2.0 Network. He is the host of Between the Lines, the official show of Baseball Spotlight, and the main contributor for the website. Connect with Tanner on IG @tannerkern and Twitter @tannerkern_. 
---
Join our Discord
to leave a question or comment regarding this article. We have sports fans talking betting all day — every day! JOIN THE DISCORD NOW AND QUALIFY FOR PRIZES & BETTING SWAG!
---