NFL First Round: Nick Saban has done everything that a college football coach can do and then some in his tenure at Alabama. The head coach has won seven National Championships and six as the leader of the Crimson Tide. He has more coach of the year trophies than you can count.
However, the rings and trophies are a byproduct of Saban's ability to recruit and develop talented football players. There is no better recruiter, talent developer, and leader of men in college football than Nick Saban.
This fact is apparent with the number of his players who have been selected in the first round of the NFL Draft since 2007 when he took over the Tide.
If you thought the Alabama first round domination would end in 2021, you were wrong because Saban had another six players taken in the top 32 picks. Saban has now had 39 players drafted in the first round since 2007.
First Round: #6 Jaylen Waddle WR – Miami Dolphins
Jaylen Waddle missed a chunk of the 2020 season with an ankle injury, so scouts did not get to see the superstar down the stretch. However, make no mistake about Waddle. He is going to be electrifying in the NFL.
Waddle will join his former Alabama teammate Tua Tagovailoa in Miami, and I expect the touchdown connection to resume. Eleven of Waddle's 20 career touchdowns went for over 50 yards, so expect the Dolphins to take shots downfield with the All-SEC athlete.
First Round: #9 Patrick Surtain II CB – Denver Broncos
Patrick Surtain II could be the best talent to come out of Alabama this year. He is the definition of a lockdown cornerback, and he has elite durability.
Surtain started his final 38 starts as a member of the Tide and claimed first-team All-American honors for his effort. He has been compared to Jalen Ramsey by multiple analysts because of his strong tackling ability and strength in coverage.
First Round: #10 DeVonta Smith WR – Philadelphia Eagles
The Eagles drafted the reigning Heisman Trophy winner in DeVonta Smith on Thursday night. Smith burst onto the scene in 2020 once Waddle went down with an injury. He filled Waddle's shoes better than anyone would have imagined.
Smith was undefendable in the SEC because of his smooth route running and strong hands. The Eagles will be able to line him up in multiple positions, and he will still win battles. The wide receiver will need to add some weight, but he has All-Pro potential.
First Round: #15 Mac Jones QB – New England Patriots
I do not think the first round could have gone any better for the New England Patriots. New England did not have to trade up to receive a quarterback who was expected to go in the top ten in Mac Jones.
Jones' footwork, arm accuracy, and character are exactly what an NFL team would want in a quarterback. The National Champion will not be able to run quarterback draw, but he will dissect defenses in the pocket.
First Round: #17 Alex Leatherwood OL – Las Vegas Raiders
Alex Leatherwood was not expected to be picked in the first round. He was the 62nd ranked prospect on Mel Kiper Jr.'s big board, and he was selected before higher positioned offensive lineman. Nevertheless, Jon Gruden and the Raiders saw something they liked, and nobody questioned their decision.
Leatherwood's technique is raw, but he is a people mover that loves to hurt defenders. He can play right tackle or guard with the potential to be an NFL tackle with some technical improvements in his lower half.
First Round: #24 Najee Harris RB – Pittsburgh Steelers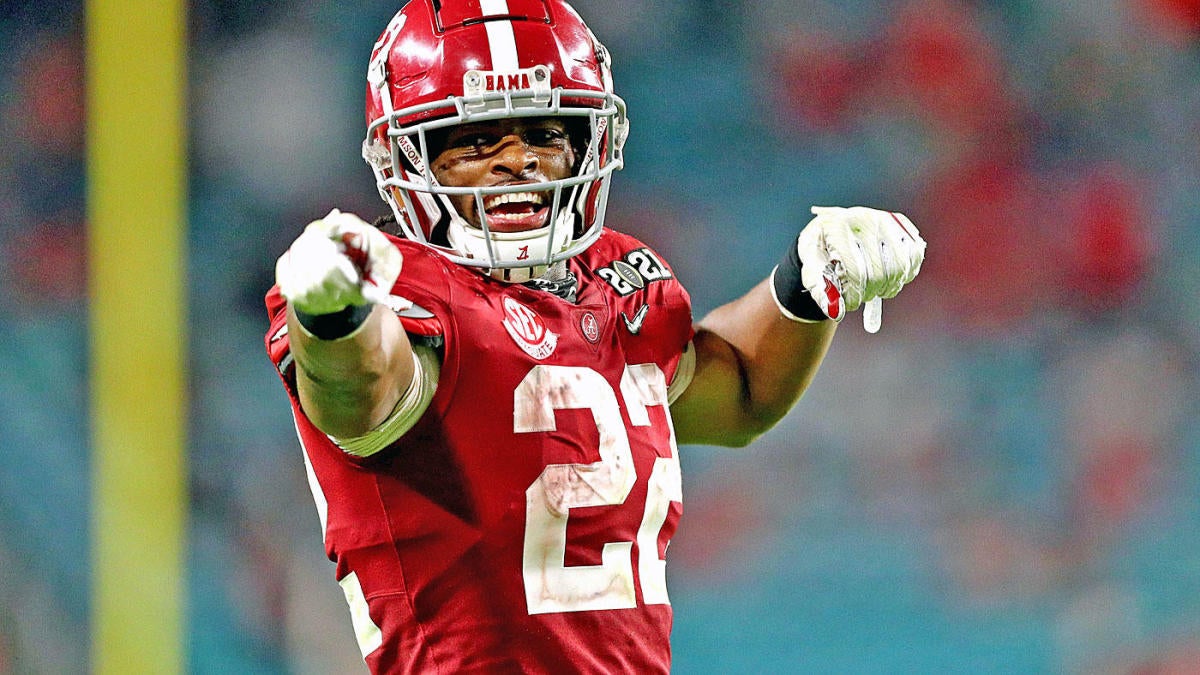 Najee Harris capped off Alabama's first round selections. The Steelers were unable to run the ball last season, and this needs to change in 2021 for Ben Roethlisberger to have a triumphant swan song.
Harris has tremendous size at 6'1" 232 lbs. He can put his shoulder down and punish defenders, but he also makes many players miss. His finishing ability is violent, which is exactly what the Steelers need in the AFC North.
Nick Saban has created a first round dynasty that will not stop under his tenure at Alabama. Congrats to the Tide on a great opening night.
Tanner Kern is a writer for Knup Sports and the Sports 2.0 Network. He is the host of Between the Lines, the official show of Baseball Spotlight, and the main contributor for the website. Connect with Tanner on IG @tannerkern and Twitter @tannerkern_. 
---
Join our Discord
to leave a question or comment regarding this article. We have sports fans talking betting all day — every day! JOIN THE DISCORD NOW AND QUALIFY FOR PRIZES & BETTING SWAG!
---