Brady vs Brees: Tom Brady and Drew Brees will meet on Sunday for a chance to send their respective teams to the NFC Championship Game. When the two future first-ballot Hall of Famers meet on Sunday, they will set a record for being the oldest quarterbacks to ever square off in the NFL Playoffs.
Tom Brady is 43 years old and Drew Brees just celebrated his 42nd birthday this past Friday. These two quarterbacks are the oldest players in the NFL today. The combined age at the quarterback position on Sunday night will be 85 years and 169 days.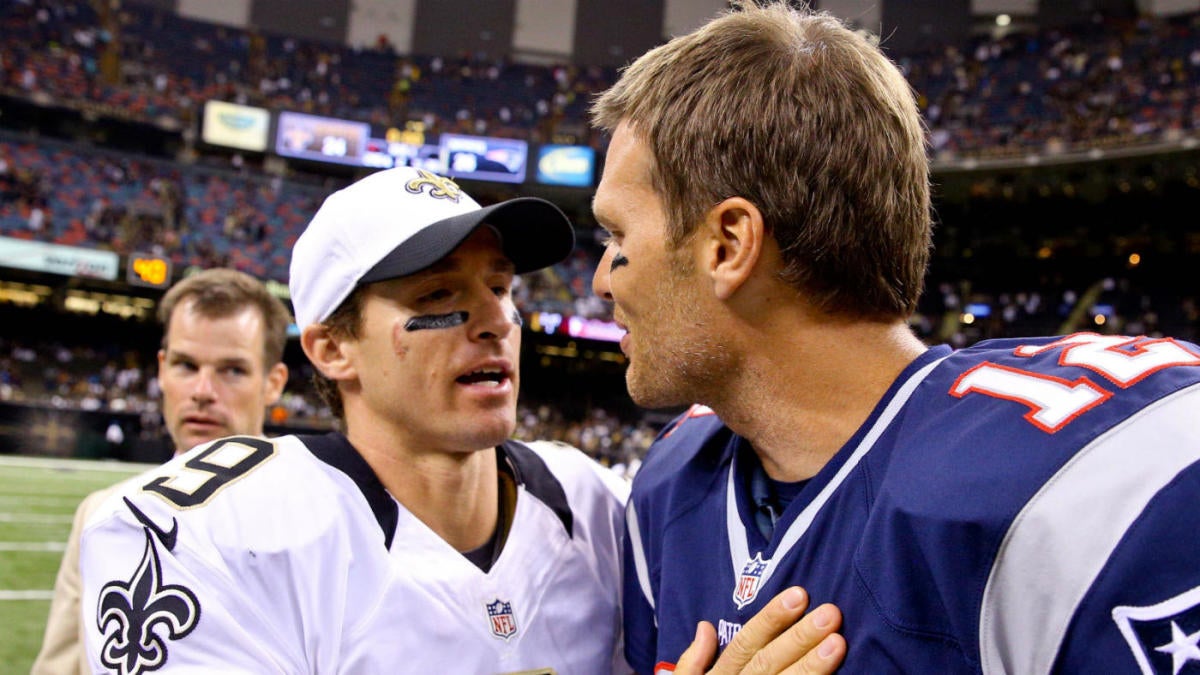 Even though Brady and Brees are in their forties, it's nearly impossible to determine this by their on-field performances in 2020. These two NFL veterans have been in the league for a combined 41 years and are still competing at an extremely high level.
Tom Brady and Drew Brees have proven that age is just a number. This will be clear when the Saints host the Buccaneers inside the Super Dome on Sunday night. The winner will punch their ticket to the NFC Championship Game next weekend.
Tom Brady | The GOAT
Tom Brady is the greatest NFL quarterback of all time. He became the GOAT with New England, but this reputation is still prevalent in Tampa Bay. At 43 years old, Brady did what a quarterback hasn't been able to do in Tampa Bay since 2002. Brady took the Buccaneers to the playoffs and earned a victory.
It's clear that Brady values this accomplishment, but he isn't done yet. Tom Brady is still hungry for another ring, 21 years into his NFL career. Brady proved this season with the Buccaneers that he was critical for the success of the Patriots during his time in New England.
Tom Brady is a difference maker when he is under center. Brady has won six Super Bowl Championships, three NFL MVP trophies, and has been selected to the Pro Bowl 14 times. Brady has done everything there is to do in this league, but he's still working every day with a sixth-round pick mentality.
At the age of 43, Tom Brady is still a top 10 quarterback. Amongst NFL quarterbacks this season, he ranks 3rd in passing yards, 2nd in touchdowns, and 9th in QBR. He led the Buccaneers to a 11-5 regular season record and a second-place finish in the NFC South.
Brady and the Buccaneers lost to the Saints twice this season, but the stakes are much higher on Sunday night. Brady will make his 42nd playoff start inside the Super Dome in an effort to keep Tampa Bay's magical season alive.
Brady vs Brees: Why Age is Only a Number for Tom Brady and Drew Brees
Drew Brees | Defying the Odds
Drew Brees is in his 20th NFL season. Brees is only 6'0" tall, but he has manufactured one of the best NFL careers in the history of the game. Brees has been defying the odds since high school. He only received offers from Purdue and Kentucky, but the two-time Big Ten Offensive Player of the Year went on to become a second-round NFL draft pick in 2002.
Brees spent the first five years of his career with the San Diego Chargers before coming to New Orleans in 2006. Drew Brees has won one Super Bowl in his career. He led the Saints to a 31-17 victory over Peyton Manning and the Indianapolis Colts in Super Bowl XLIV. 
Brees' 32 of 39 night that resulted in 288 yards and two touchdowns earned him the Super Bowl XLIV MVP Award. Brees has won two NFL Offensive Player of the Year Awards and has been selected to the Pro Bowl 13 times. The 42-year-old has consistently led the league in passing over his career. In 2011, 2008, and 2012, Brees ranked first in the league in both passing yards and touchdowns.
Brees hasn't started as many playoff games as the GOAT, but he has bested the Buccaneers twice this season. He'll be looking to do it for a third time on Sunday night.
Brady vs Brees | Final Thoughts
These two quarterbacks have done so much throughout their respective NFL careers. If I were to list their entire resume, this article would be endless. Tom Brady and Drew Brees have innovated the quarterback position in the NFL. Their tremendous playing careers will live on long after they both decide to hang up their cleats.
Age is the main thing that the media is discussing heading into this football game. However, once the opening kickoff takes place, age will be the last thing on the minds of millions watching all around the world.
Putting this aside, if you're an NFL fan, please enjoy this game. Brady and Brees have defied the age stereotype in the NFL, but they won't be under center forever. Their level of play over the past few years may give fans the impression that they're immortal, but all good things eventually come to an end. Although, the clock hasn't expired on either of their careers just yet.
Tom Brady and Drew Brees will shine in the Super Dome on Sunday night and show no signs that they've started a combined 576 games in the NFL.
Follow me on IG @tannerkern and Twitter @tannerkern_ for game previews, betting analysis, and the best stories from the sports world. Be sure and keep up with the Sports 2.0 Network, Sports 2.0 Twitter,  Basketball Articles, and  Knup Sports for all of my latest content and best takes from around the sports and sports betting world as well!!