If you scrolled through Patriots Twitter last night, you saw mixed reactions to the team selecting Mac Jones 15th overall. Some people were happy, comparing a shirtless photo of Jones to Tom Brady's famous combine photo.
This is the ideal male body and what peak performance looks like #EnEffElDraft pic.twitter.com/dpR4LQ31lM

— Barstool Sports (@barstoolsports) April 30, 2021
Other people thought New England should have given Cam Newton a weapon to work with and held off for another year on a franchise quarterback. Jones may not be the most talented quarterback in the 2021 pool, but he does have the most potential.
This same statement could have been said about Tom Brady over two decades ago when he was selected by New England. I am not saying Mac Jones will be Brady 2.0, but I think this was an outstanding choice for the Patriots.
Mac Jones: Prototypical Size
The NFL is changing, and the running quarterback is becoming the new trend. However, there will always be a home for pocket passers that can spin the football. NFL play-callers want a durable quarterback that can hurt defenses with their arm, and Jones is this type of player.
Jones is 6'3" and 217 pounds. If you looked up a prototypical size for an NFL quarterback, you would find these measurables.
The National Champion will not blow you away with his athleticism, but this does not mean that he cannot play quarterback. Jones' footwork in the pocket is more important than his 40-time.
He ran a 4.83 40-yard dash at Alabama's Pro Day, which is not fast, but it's good enough to escape a collapsing pocket. If Tom Brady can still avoid a rush with his legs from time to time, Jones will be just fine when he is forced to tuck it and run.
Mac Jones: Exceptional Footwork
Playing quarterback at a high level is not solely determined by arm strength. The best signal-callers are the players who have their lower and upper half connected. The one thing that scouts praised about Jones was his footwork in the pocket.
Jones' exceptional accuracy was partially thanks to his footwork. The quarterback's lower half was usually set up appropriately to help him connect with receivers downfield.
Jones will occasionally panic, which causes his feet to come out of position. These scenarios are when he struggles because of his limited arm strength, but Bill Belichick and Josh McDaniels will clean this up with ease.
Mac Jones: Awareness
I do not care if you are playing for the best college football team in the country. If a quarterback makes a mistake, the football will be intercepted.
Mac Jones only threw four picks in 411 attempts, as he led the Crimson Tide to the National Championship in 2020. The quarterback knows what is going on around him, and he does not force the football into unwinnable situations.
This does not mean that Jones cannot fit the ball into an NFL window because his accuracy is a quality that scouts loved during the draft buildup. Jones realizes that it's better to punt than make a mistake for trying to be a hero.
In the NFL, the turnover margin is critical, and Jones will help New England in this area by controlling the football.
Mac Jones: Arm Talent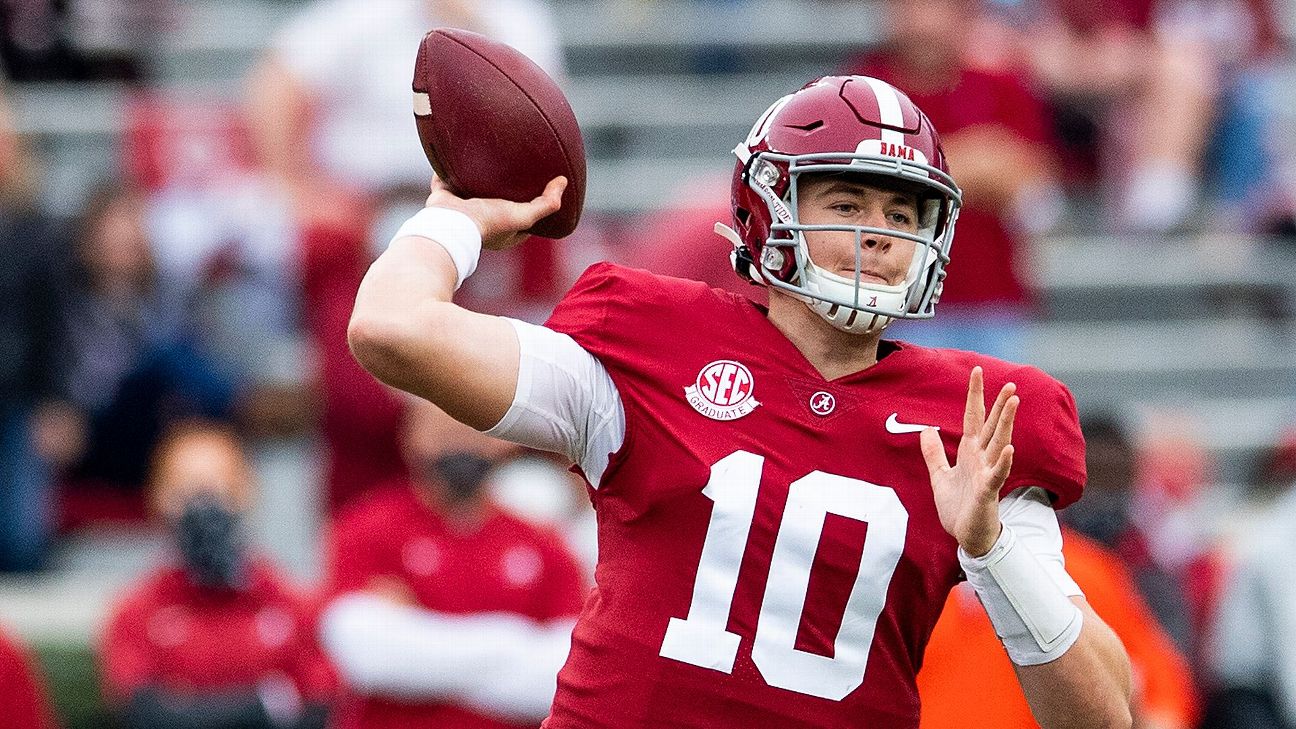 I will not lie and say that the Patriots drafted the next Josh Allen in terms of arm strength because this is not true. Nevertheless, Jones still has a talented arm.
What do I mean by talented arm?
Jones is very accurate in the short to intermediate passing game. He can also deliver deep throws on the money when he is protected.
Jones struggles when he must put a lot of zip on the ball. The Patriot will excel in the screen and play-action pass game in his first couple of years in the league. As he matures, Jones should improve his arm strength, considering he is only 22 years old.
The starting job is likely Newton's to lose, but if Jones gets the call, McDaniels will not ask the rookie to do something that will set him up for early NFL failure.
Mac Jones: Competitor
When you look at Mac Jones, the attribute that jumps off the page is his competitiveness. In week one, when Alabama was getting ready to face Missouri, Jones rattled off an entire scouting report in the Tuesday press conference leading up to the game.
Preparation is the first sign of a competitor, and Jones would not have been selected 15th overall without being a student of the game.
His preparation helped him lead his team to the National Championship. You can criticize Jones by saying that he was on a roster filled with talent, but he was a significant piece to Nick Saban's winning puzzle in 2020 for the Crimson Tide.
The first rounder completed 77.4% of his passes for 4,500 yards and 41 touchdowns in the best conference in college football. Those numbers are the true sign of a competitor.
Is Mac Jones Brady 2.0? Probably not. Yet, this does not mean he will not be the next successful franchise quarterback in New England.
As a Patriots fan, I cannot wait to watch Mac Jones spin it for years to come.
Tanner Kern is a writer for Knup Sports and the Sports 2.0 Network. He is the host of Between the Lines, the official show of Baseball Spotlight, and the main contributor for the website. Connect with Tanner on IG @tannerkern and Twitter @tannerkern_. 
Tanner Kern is a former Division I football player at Lafayette College and a graduate of the University of Connecticut. He is currently a writer for Knup Sports and the Sports 2.0 Network. He is the host of Between the Lines, the official show of Baseball Spotlight, and the main contributor for the website.
Sports Network:
sports20.com, usawager.com, knupsports.com, baseballspotlight.com, basketballarticles.com, betdecider.com, njsportsbookreview.com, dunkelindex.com, sportspub.com, oddschoice.com