I played football throughout my life, from the fourth grade to the Division I level. During this time, I learned football moms are the best moms. Football moms would do anything for their sons, and this will never change.
Mothers like Donna Kelce epitomize what it means to be a football mom. This woman pushed two Super Bowl champions with a current combined weight of 542 pounds out of her, and she is still thriving.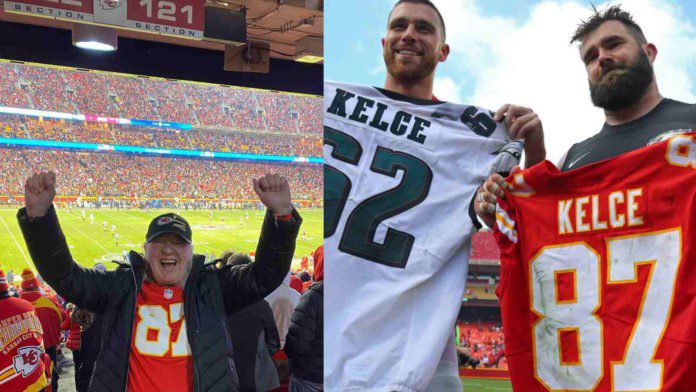 Donna broke the internet on Sunday after seeing her son Jason play for the Eagles in Tampa Bay at 1:00 PM and making it to Arrowhead to watch Travis battle the Steelers at 8:20 PM ET. She even had enough energy to ask Travis a question in the postgame presser.
The NFL gave Donna the chance to see both her sons based on their schedule, and she did not disappoint. The league added an extra Wild Card, which gave the Eagles a postseason berth, even though it was short-lived.
Jason and the Eagles were steamrolled by Tom Brady and the Buccaneers at Raymond James Stadium. Donna could have left at halftime of the Eagles game because the final outcome had been decided.
Nevertheless, it was potentially Jason's final game, so she stuck out the Buccaneers' domination before heading to the airport. Following the game, Donna hopped in a taxi, battled through security, and made her way to Kansas City.
From Tampa Bay to Kansas City ✈️

Donna Kelce made it to see both of her sons' playoff games today ❤️

(via @NFL) pic.twitter.com/HSA2d8WzfU

— ESPN (@espn) January 17, 2022
Donna did not want a private jet or limo, and I would not expect her to because she is a true football mom. Her flight was delayed by 30 minutes, and her ETA for Arrowhead became the first quarter.
This made a lot of people ask, "Is Jason her favorite child?"
Why would Donna not leave the Eagles game to go see her son on a team that actually has a chance of winning the Super Bowl?
I think Donna knew the Chiefs basically had a bye week against the Steelers, so I figured she would catch the whole AFC Divisional Game next weekend.
In football, it's all about doing whatever it takes to win. This is exactly what Donna did on Sunday when she saw both her Super Bowl champions play in two stadiums, separated by over 1,200 miles.
When you work hard in football, you are rewarded. Donna worked hard on Sunday, and she was rewarded by not having to do this again next week. She can stay in Kansas City to watch Travis take on the Bills. However, if the Eagles had won, I bet Momma Kelce would have made it work because that's what football moms do.