Coaching is a very tough profession because it's driven solely by results. Vince Lombardi said it best.
"Winning isn't everything. It's the only thing."
If a coach does not win, they will be fired. It's a simple fact.
The idea for this article was sparked at two different points in my day. The first was on my afternoon run, where I was feeding my brain with motivational content about the process of winning in life.
The second was Pardon My Take, a podcast with Big Cat and KFC presented by Barstool Sports. The two discussed their fear of betting on coaches who lose weight during the regular season. They equated this to not spending enough hours watching film while eating fast food.
Andy Reid on when he plans to wear his Super Bowl ring: "You wear it for special occasions. Or if you want a free cheeseburger, you point that right there, show 'em that ring and you might get one." 😂😂 pic.twitter.com/4OBCD4VQtF

— Field Yates (@FieldYates) September 1, 2020
It was obviously a joke, but it made me wonder if the best head coaches throughout history are overweight. The results were what I expected…
Some of the greatest head coaches to ever walk an NFL sideline have been overweight. Is this because these leaders stayed up late watching film while eating fast food? I cannot speak to the validity of this question.
However, I think I can prove my point. Let's get into the research.
Bill Belichick
Bill Belichick is third on the all-time wins list as a head coach with 287 victories. He is 6-3 in Super Bowls and is continuing to prove his greatness by rebuilding the Patriots' dynasty.
Belichick is known for snark comments to the media and an all-business attitude, but what about his BMI? Bill Belichick's weight is not public, but the pictures do not lie.
It was also revealed that Belichick's doctors advised him to lose weight heading into the 2021 season. This could be because he is devouring film and McDonald's simultaneously.
Chuck Noll
Chuck Noll was the leader of the Pittsburgh Steelers in the Steel Curtain era. He coached the team to four Super Bowl victories. Noll played at 6'1" 220 pounds, and he gained weight in his time coaching the Steelers.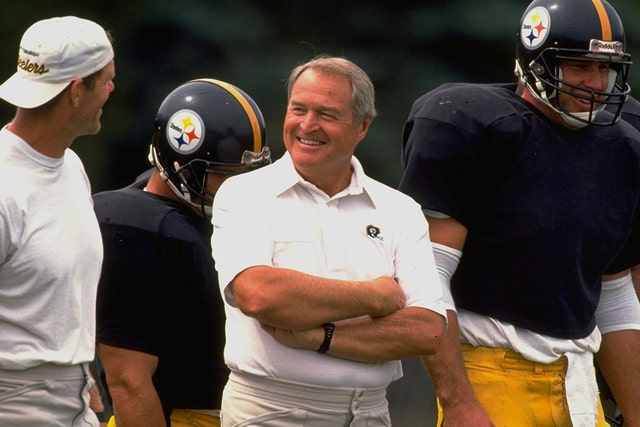 His playing weight gave him a BMI of 29, which is one point away from obese. He definitely hit this category once he started coaching.
Andy Reid
Andy Reid is just 1-2 in Super Bowls and earned his first victory with the Chiefs in 2019-20. Nevertheless, Reid is one of the best head coaches of all time, and it's no secret that Reid likes to eat.
After winning the 2020 AFC Championship Game, he gave an iconic quote.
"I had a cheeseburger and went to bed."
Reid is fifth on the all-time wins list with 227. He has been a head coach in the NFL since 1999 and accumulated a .628 winning percentage with the Eagles and Chiefs.
John Madden
John Madden literally has the most iconic football video game ever named after him. This automatically puts him on the list of best NFL head coaches.
Madden ranks 43rd on the all-time wins list with 103 victories in ten seasons with the Raiders. Madden led Oakland to Super Bowl XI and beat the Vikings 32-14.
A high BMI is indicative of winning. Now, all we have to do is wait for a prestigious medical journal to pick up this article, and then we can prove causation!
---
Join our Discord
to leave a question or comment regarding this article. We have sports fans talking betting all day — every day! JOIN THE DISCORD NOW AND QUALIFY FOR PRIZES & BETTING SWAG!
---