We've got ourselves some football on Christmas Day! In order to prepare for your NFL Christmas bets, I've broken down both the Vikings and Saints to find some mismatches.
For all things props and picks, make sure you're following on Twitter, @griffybets. I'll have a preview up soon for Saturday's three NFL games, along with player prop breakdowns for the rest of Week 16.
Minnesota Vikings at New Orleans Saints
4:30 PM EST, FOX/NFL
Line: Saints -6.5
Points: 50.5
Minnesota (6-8 overall), (6-8 ATS)
New Orleans (10-4 overall), (7-7 ATS)
NFL Christmas Bets: When Minnesota Has the Ball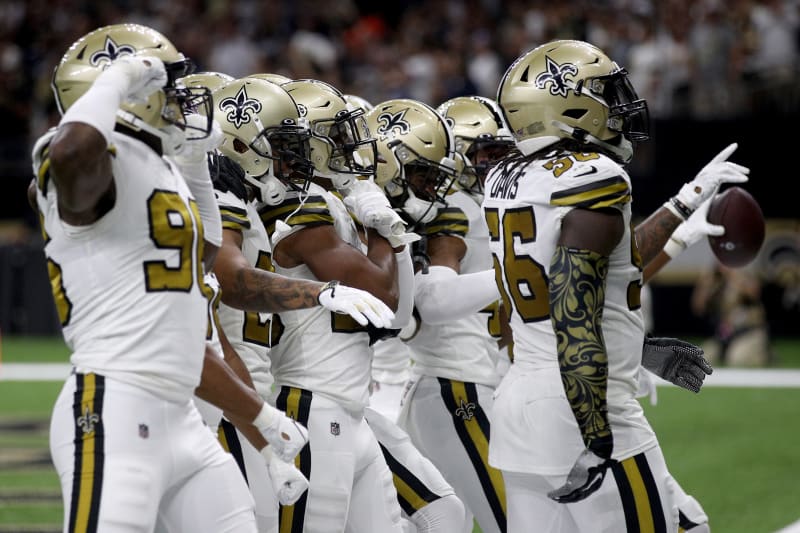 The Saints defense remains one of the league's best. Despite allowing 32 points to the Chiefs, New Orleans beat reporters are lauding the defensive effort. The breakdown that stuck out to me was holding Patrick Mahomes to 4.55 yards per attempt, a number lower than Carson Wentz's 4.71, the league-worst average.
Mahomes is the favorite to win the MVP, and if this defense can limit the Chiefs offensive firepower, I would expect a similar result against the Vikings.
Passing Game Thoughts
Prop pick: Kirk Cousins UNDER 251.5 passing yards
The sharp play might be this under, currently set at 251.5. Cousins is averaging 255 yards per game, while this Saints secondary surrenders just 227.4 yards per game to opposing quarterbacks. 
As we'll dive into, the Vikings should be trying to get the run game going, as the advantage is likely to be found there. 
Justin Jefferson has emerged as the number-one wide receiver on this team. His last four games, compared to the other Vikings stars:
Jefferson: 28 catches, 44 targets, 334 yards, three touchdowns

Cook: 17 catches, 22 targets, 115 yards

Thielen (three games): 13 catches, 18 targets, 125 yards, two touchdowns
This is the Jefferson show, and the rookie Pro Bowler is the catalyst for the Vikings being the top-ranked receiving team in the NFL, according to PFF.
This leads to a confliction of sorts for me. Jefferson has the volume and opportunity you want in a player prop, but this defense is no slouch. PFF grades the Saints coverage unit below-average, at 21st in the NFL, but DVOA has New Orleans as the third-best passing defense in the league.
I don't like being pulled in different directions, and as such, despite Jefferson's usage, I have to stay away. I've seen his over/under set at 64.5, very reasonable. If you're feeling drawn to the Vikings passing game, Jefferson is probably your guy.
Running Game Thoughts
Prop pick: Dalvin Cook OVER 84.5 rushing yards
In the run-game, this is a strength-on-strength matchup. The Vikings are a top rushing team (2nd on PFF, 6th in DVOA), while the Saints are the top rush defense (1st on PFF, 2nd in DVOA).
On the year, the Saints defense has allowed an average of 78.43 rushing yards per game to running backs. 
How important are recent results to you?
Last two games: 
Miles Sanders (115 yards)
Clyde Edwards-Helaire/LeVeon Bell (141 yards)
If anyone can keep this leak flowing, it's Dalvin Cook. The man has had an unbelievable year, going over 100 yards in three straight games, and six of his last eight.
The strong defensive numbers of the Saints has brought Cook's line lower, and I find 82.5 to be great value, it's my favorite play for the Vikings offense.
Keep an eye on Cook's receptions in this one. On the season, the Saints are allowing running backs to catch 4.14 balls per game, and Cook has matched that number in six of his last nine games. This number is at 3.5, which I'm taking.
NFL Christmas Bets: When New Orleans Has the Ball
In the spirit of digestibility, I won't bore you with the DVOA/PFF rankings for every matchup. What I will tell you is that there is a clear advantage in the running game for New Orleans.
Minnesota's coverage units are surprisingly a top-14 unit on both sites, while the Saints find themselves ranked 18th or lower in the passing game. I'm staying away from New Orleans passing game.
Running Game Thoughts
DVOA grades New Orleans as the third-most efficient rushing offense in the NFL. Rankings come in much less favorably for the Vikings run-defense (26th on PFF, 20th in DVOA).
This is the matchup to target when the Saints have the ball.
Prop pick: Alvin Kamara OVER 65.5 rushing yards
On the year, Latavius Murray has siphoned off a large chunk of carries from Alvin Kamara, but snap count trends suggest Kamara is growing back to a focal point of the offense.
Last four weeks snaps played:
Kamara: 48%-62%-71%-73%

Murray: 47%-41%-32%-29%
Last four weeks carries:
Kamara: 11-15-11-11

Murray: 19-5-4-4
On the year, the Vikings defense has allowed an average of 104.6 rushing yards per game to running backs. Kamara hasn't had a breakout rushing game yet this year, which helps keep this over/under at a reasonable number. I expect a big game from Kamara in all facets of the offense, and with trends in playing time and a soft matchup, I like his rushing here.
Prop pick: Alvin Kamara OVER 6.5 receptions (+120)
There should be no doubt that Alvin is the man in New Orleans, and it's clear the quarterback makes a difference for Kamara's passing-game usage.
In four games with Taysom Hill at quarterback, Kamara averaged 4.0 targets per game. With Brees? 8.6 targets per game.
The Vikings give up 4.86 catches per game to the running back position, and there's not many running backs in the NFL as involved in the passing game as Kamara is. 5.5 receptions is a very reasonable number. Factor in Michael Thomas on IR, and this offense will flow through the former third-round pick from Tennessee.
NFL Christmas Bets: Thoughts on the Game
I'd bet on the Saints to win this game, but I don't love them as 6.5-point favorites. 
I'm surprised to see how competent the Vikings secondary is, they were one of the most generous defenses to wide receiver performance earlier in the year. Without much of a threat in the passing game beyond Kamara, I could see the Saints struggling to score points in bunches.
Meanwhile, it's been covered how strong this Saints defense is. Set at 50.5 points, I like the under on Christmas Day. 
That will do it for this NFL Christmas Day preview. Make sure you're following on Twitter, @griffybets – Week 16 is only just getting started.