NFL Draft First Round: NFL Mock Draft
The Senior Bowl is over, so it's officially NFL Draft season. The first round of the NFL Draft is scheduled for Thursday, April 29th. A lot of things are going to happen between now and then, but here is my current first-round mock.
1 | Jacksonville Jaguars 
Pick: Trevor Lawrence 
Position: QB

School: Clemson 

Year: Junior

Height: 6'6"

Weight: 220 lbs. 
Trevor Lawrence has been labeled as the probable first pick in the NFL Draft since he took the field at Clemson in his freshman season. Lawrence is a generational talent that can sling the ball all over the field.
Lawrence is a proven winner with a strong arm and a tremendous skill set. The Urban Meyer era in Jacksonville will begin with Trevor Lawrence. If there is one pick on this list that's a lock, it's Lawrence at number one. 
2 | New York Jets
Pick: Zach Wilson
Position: QB

School: Brigham Young

Year: Junior

Height: 6'3"

Weight: 209 lbs.
The only downside that's evident with Zach Wilson is that he was a one-year star at BYU. However, he was excellent in 2020. Wilson made it clear that he can make every throw in the NFL. 
Justin Fields could take this spot as well. New York needs a QB with Sam Darnold most likely departing. If the Jets can move past Wilson's questionable character, he could be one of the pieces that turns New York into a winning franchise. 
3 | Miami Dolphins (Trade from Houston)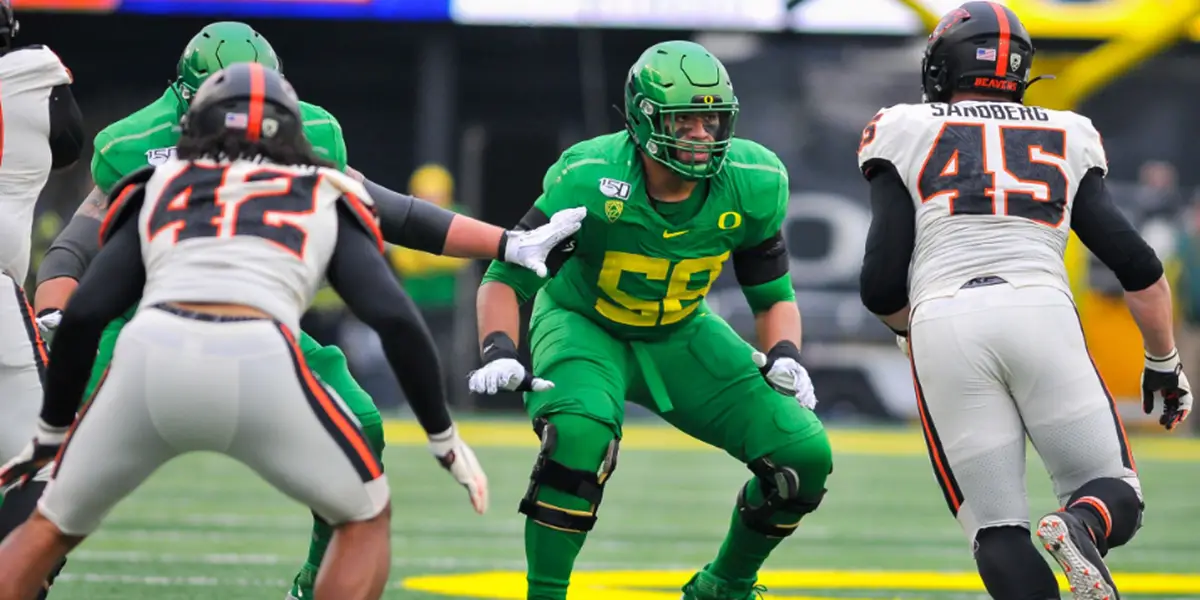 Pick: Penei Sewell 
Position: OL

School: Oregon

Year: Junior

Height: 6'6"

Weight: 330 lbs.
Miami needs a receiver and an offensive lineman. There are predictions that Miami will take Tua Tagovailoa's former teammate, DeVonta Smith, at number three. Although Tagovailoa is desperate for protection, there is not a better offensive lineman in the draft than Penei Sewell.
Sewell is a prototypical NFL left tackle. He has the size and feet to excel in the league against elite pass rushers. He can also maul interior opponents in the run game. 
4 | Atlanta Falcons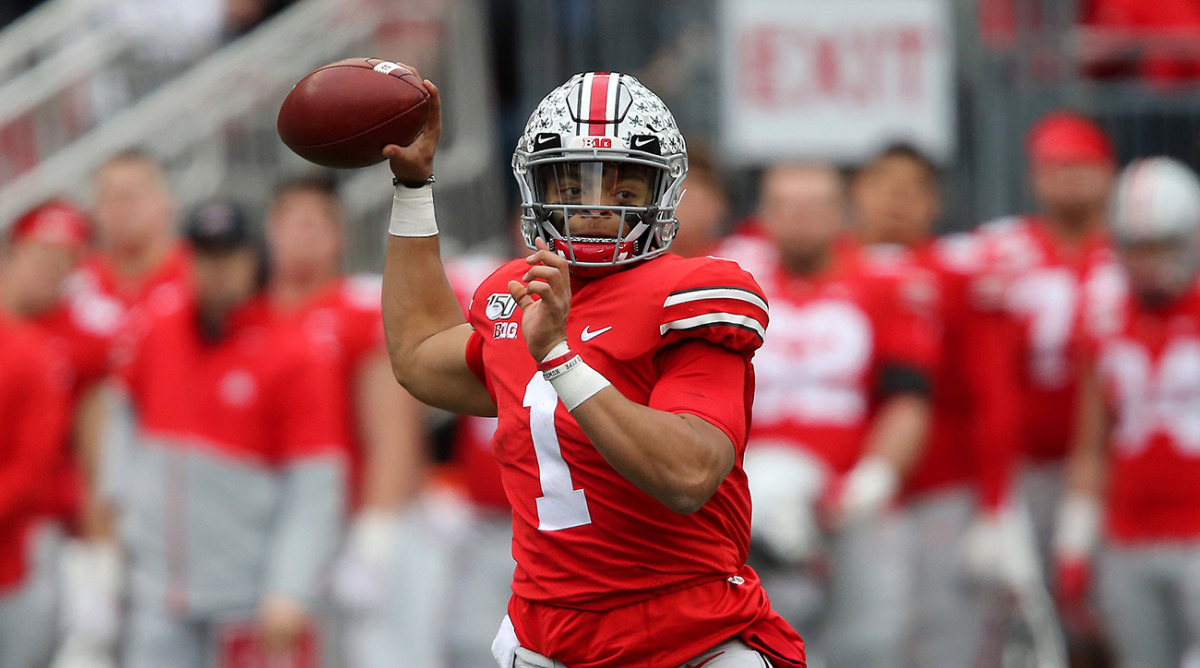 Pick: Justin Fields
Position: QB

School: Ohio State

Year: Junior 

Height: 6'3"

Weight: 210 lbs. 
Justin Fields can run the football, but he is a pocket passer at heart. Atlanta needs a quarterback and Fields will be the best available at this point in the night.
Fields has a great arm and does not make many mistakes in the pocket. One thing that makes franchises hesitant about Fields is his ability to recognize and handle blitzes. This ability can be learned so Atlanta should be excited about Fields' upside if they get him at the fourth spot in the draft
5 | Cincinnati Bengals 
Pick: DeVonta Smith
Position: WR

School: Alabama 

Year: Senior

Height: 6'1"

Weight: 175
DeVonta Smith is the best WR in the 2021 Draft Class. The Bengals need an offensive lineman and a wide receiver. If Penei Sewell is available at five, I think they will take him over Smith. I do not think this scenario is likely which will make Smith an easy choice. 
Smith is the reigning Heisman Trophy Winner. He was indefensible in the SEC this season and has tremendous athleticism that's only going to improve. 
6 | Philadelphia Eagles
Pick: Micah Parsons 
Position: LB

School: Penn State

Year: Junior

Height: 6'3"

Weight: 245 lbs. 
Micah Parsons is a remarkable talent at linebacker. He has elite run stopping power because of his ability to run sideline to sideline. He's physical and aggressive, which can be a downfall at times because of his occasional lack of discipline.
The Eagles will need to teach Parsons how to stay restrained on play action attempts, but he will be a force in the middle of Philadelphia's defense if they choose him at pick five. 
ENJOYING KNUPSPORTS NFL DRAFT ARTICLES? Click the link here to stay updated on the most recent NFL Draft Odds
7 | Detroit Lions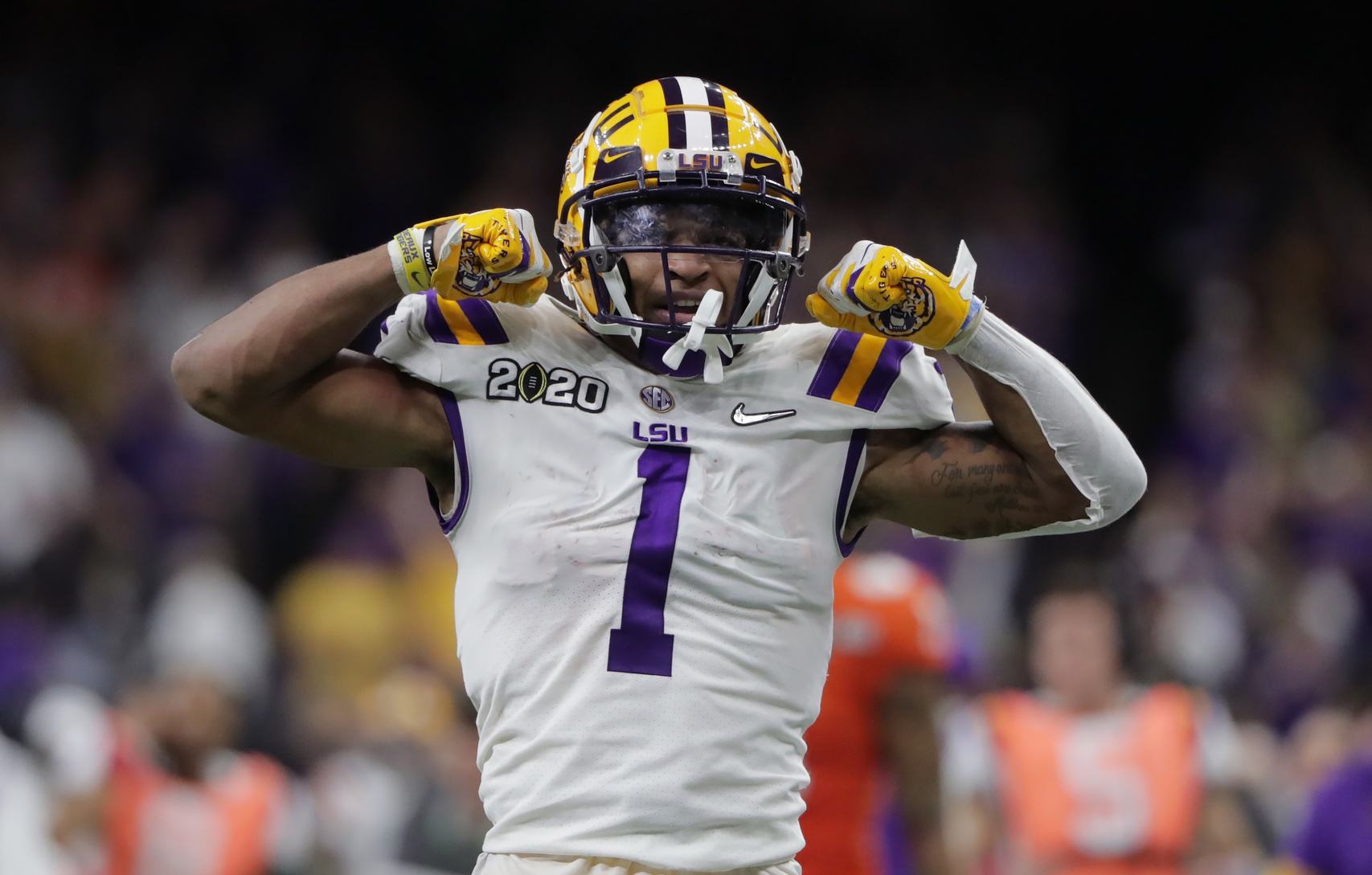 Pick: Ja'Marr Chase
Position: WR

School: LSU

Year: Junior

Height: 6'0"

Weight: 208 lbs. 
Ja'Marr Chase sat out during the 2020 season, but he is a playmaker. Chase is exactly what the Lions need to start their rebuilding phase. Chase will quickly become Jared Goff's favorite receiver in Detroit. 
Chase's height is on the shorter end, but he showed the ability to ball in the SEC. If you can dominate the best collegiate competition in America, your skills will most likely translate to the NFL. 
8 | Carolina Panthers
Pick: Mac Jones 
Position: QB

School: Alabama 

Year: Senior

Height: 6'3"

Weight: 214 lbs. 
Mac Jones was coached by Panthers HC, Matt Rhule, in the Senior Bowl. Rhule raved about Mac Jones following the game. Mac Jones earned a first-round grade with his 2020 performance, but scouts are still quick to criticize Mac Jones.
Jones does not have the biggest arm, but he is very accurate in the short and intermediate passing game. The bottom line with Jones is that he is a winner, and he has a tremendous work ethic. These two characteristics are going to cause him to have a successful NFL career. 
9 | Denver Broncos 
Pick: Caleb Farley
Position: CB

School: Virginia Tech

Year: Junior

Height: 6'2"

Weight: 2017 lbs. 
Caleb Farley is not the most experienced cornerback in the 2021 NFL Draft. Farley played quarterback in high school and was recruited to be a wide receiver at Virginia Tech. He made the switch to corner in 2019 and it paid dividends for himself and the Hokies.
Denver struggled in the secondary this season, so a cornerback is an easy choice at pick number nine. Farley can lock down elite receivers, but his durability is a concern. If he can stay healthy, he will make an impact as a rookie.
10 | Dallas Cowboys 
Pick: Rashawn Slater 
Position: OL

School: Northwestern

Year: Senior

Height: 6'4"

Weight: 315 lbs. 
The Cowboys need protection for Dak Prescott following his gruesome leg injury this season. The Cowboys iron offensive line from a few years ago is nonexistent. Slater will help fill this void.
Slater opted out of his senior season, but he was a three-year starter on the Northwestern offensive line. Slater lacks length, but he makes up for it with his technical ability and athleticism blocking linebackers at the second level. 
11 | New York Giants
Pick: Alijah Vera-Tucker
Position: OL

School: Southern California  

Year: Junior

Height: 6'4"

Weight: 315 lbs.
Daniel Jones needs protection, so I would be surprised if New York does not take an offensive lineman at pick eleven. Alijah Vera-Tucker could go before Slater depending on how these two perform at the NFL Combine and their respective pro days. 
Alijah Vera-Tucker will excel on the interior offensive line in the NFL. He will be able to handle defensive tackles in the run and pass game. He can also play tackle if a team feels he would be a better fit on the edge.
12 | San Francisco 49ers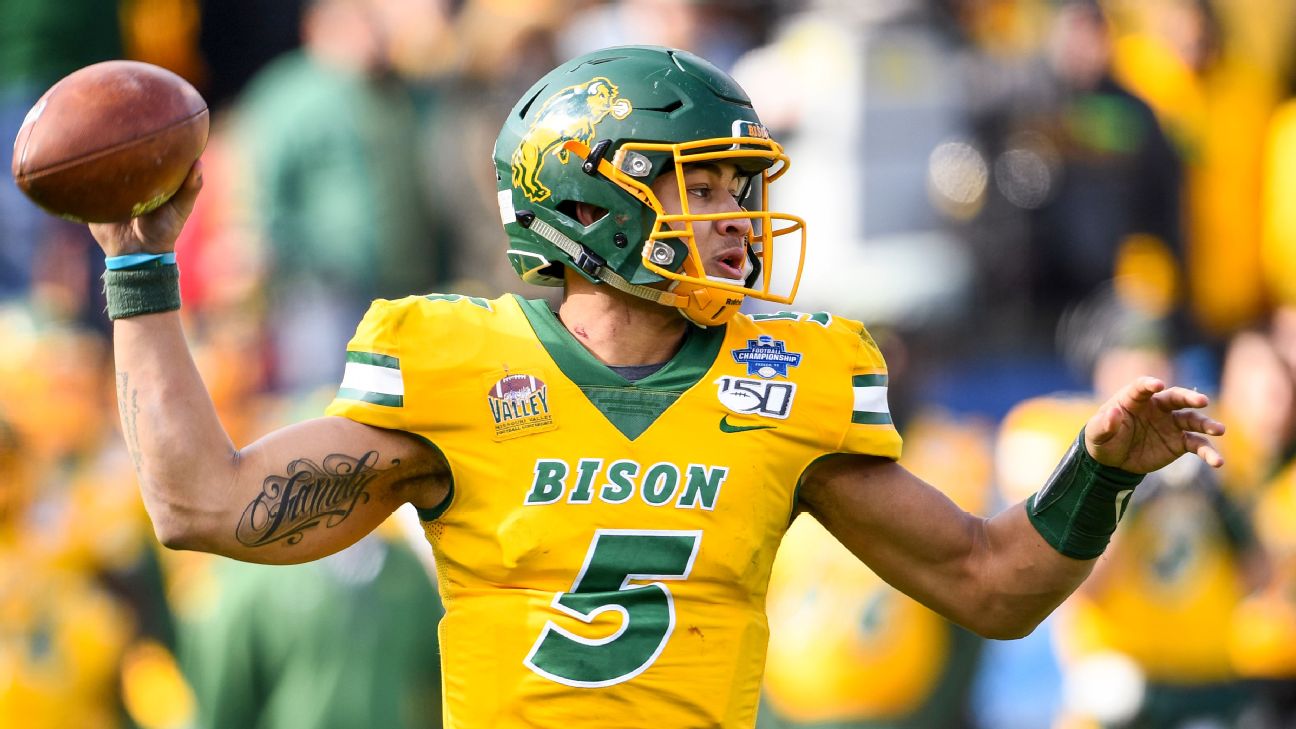 Pick: Trey Lance 
Position: QB

School: North Dakota State 

Year: Sophomore

Height: 6'4"

Weight: 226 lbs.
It appears that Jimmy Garoppolo could be returning to New England so the 49ers will need a quarterback. Trey Lance is an FCS prospect out of North Dakota State. He is a tremendous talent, but he is raw. 
Lance could be a great long term fit in the NFL, but I think he still needs time to develop. If the 49ers took Lance, I believe Nick Mullens would still be the 2021 Week 1 starter for San Francisco. 
13 | Los Angeles Chargers
Pick: Christian Darrisaw
Position: OL

School: Virginia Tech 

Year: Junior

Height: 6'5"

Weight: 314 lbs.
The Chargers have the rookie of the year under center in Josh Herbert. Herbert had a phenomenal rookie season, but he needs protection. Christian Darrisaw could be the answer to this problem for Los Angeles.
Darrisaw is an excellent athlete. He will be able to handle elite pass rushers off the edge. The only issue with Darrisaw is that he does not play with a mean streak. The Chargers will have to train him to become a relentless run blocker. 
14 | Minnesota Vikings 
Pick: Kwity Paye 
Position: DL

School: Michigan

Year: Senior

Height: 6'4"

Weight: 272 lbs.  
Kwity Paye's stock has risen all season long. I think he will test exceptionally well at the NFL Combine which will help him come off the board in the middle of the first round. Paye can play in the interior, but he can also rush off of the edge.
The Vikings are in desperate need of a versatile athlete like Paye so he could be the perfect fit for Minnesota at pick 14. 
15 | New England Patriots
Pick: Kyle Pitts 
Position: TE

School: Florida

Year: Junior

Height: 6'6"

Weight: 240 lbs. 
The Patriots lacked weapons all year due to injury and limited cap space. Kyle Pitts could help the Patriots start filling in their weapons arsenal for 2021. Pitts has the athleticism to play receiver, but he is exceptional at running routes from the interior.
Pitts will help the Patriots in the passing game, but he needs a lot of work in the run game. Pitts is not afraid to block, but he was outmatched at times by SEC defensive ends and linebackers. 
16 | Arizona Cardinals 
Pick: Patrick Surtain II
Position: CB

School: Alabama

Year: Senior

Height: 6'2"

Weight: 202 lbs. 
Patrick Surtain II played well in coverage for Alabama in 2020. Surtain is raw, but he has tremendous straight-line speed. Surtain does not get beat over the top, but his tape shows that he has weaknesses in the short to intermediate coverage range.
Surtain needs to work on his hip flexibility, but he has a lot of potential in the NFL. Surtain's professional skill may not click immediately, but the Alabama graduate should come into his own early in his NFL career.  
17 | Las Vegas Raiders
Pick: Christian Barmore 
Position: DL

School: Alabama 

Year: Sophomore

Height: 6'5"

Weight: 310 lbs. 
Christian Barmore's upside is tremendous. He is leaving Alabama after his RS sophomore season, so he is very raw, but his highlights are extraordinary. Barmore bullied offensive linemen in the SEC with his exceptional power and explosiveness.
Barmore's technicality still needs development, but he could be the most physical interior DL in the 2021 draft class. Barmore has been compared to Warren Sapp and I think this is a worthy comparison. Jon Gruden needs an anchor in the middle of his defense and Barmore would be the perfect fit. 
18 | Miami Dolphins 
Pick: Azeez Ojulari 
Position: LB

School: Georgia

Year: Sophomore

Height: 6'3"

Weight: 240 lbs.
Miami needs an offensive lineman, a linebacker, and a wide receiver. I could see them taking Elijah Moore, but I think they will hold off on a receiver until the second round to lock up Azeez Ojulari. 
Ojulari had a breakout season in 2020 where he was disruptive in the pass and run game. Ojulari forced fumbles, intercepted passes, sacked quarterbacks, and stopped running backs on the line of scrimmage. He is only a RS sophomore, so he has a lot of room for development, but he has all the physical tools. 
19 | Washington Football Team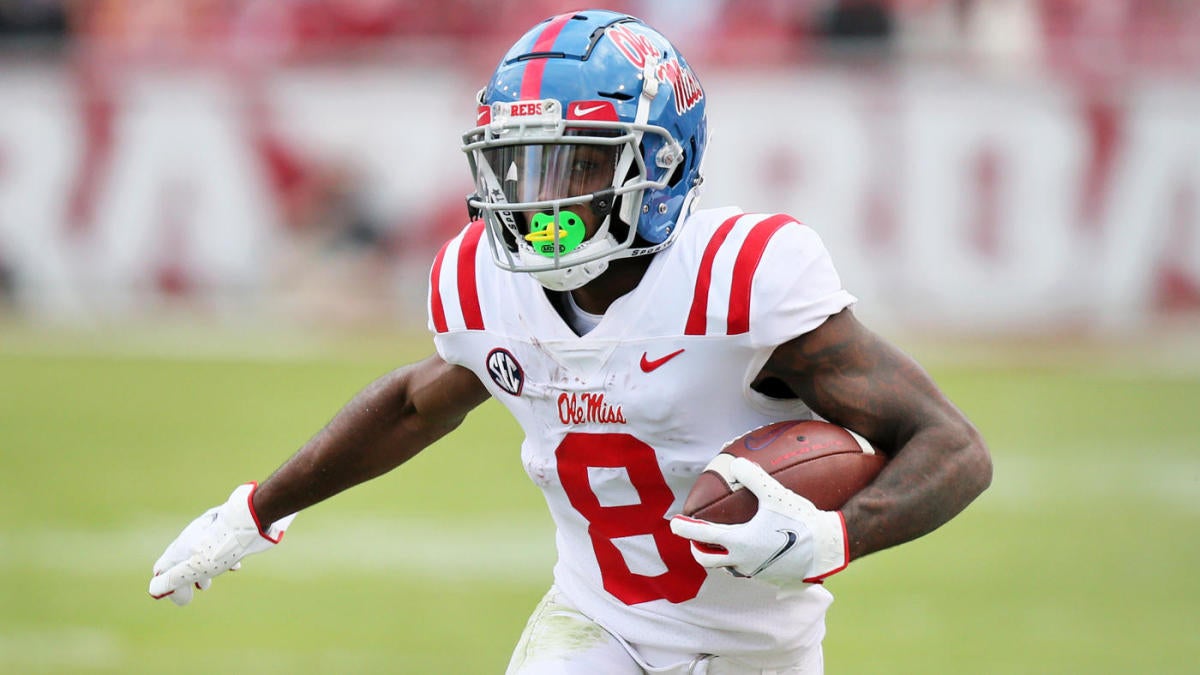 Pick: Elijah Moore 
Position: WR

School: Ole Miss

Year: Junior

Height: 5'9"

Weight: 185 lbs. 
Elijah Moore is a dynamic receiver. The quarterback situation in Washington is still unclear. I believe that Washington will take a quarterback in the early rounds, but I think they will claim Elijah Moore while he is still available with the 19thpick.
Moore is a dynamic receiver and that's what NFL teams desire. He is best suited for the slot with his game changing speed. Washington will need to cater their offensive scheme to Moore to get him involved, but I think Ron Rivera will be happy to draft a playmaker like Moore. 
20 | Chicago Bears 
Pick: Tevin Jenkins 
Position: OL

School: Oklahoma State

Year: Senior

Height: 6'6"

Weight: 320 lbs.
The Bears are desperate for a solid offensive lineman that can keep Mitch Trubisky upright. Tevin Jenkins should be the best available OL at this point on night one of the NFL Draft. Jenkins was a four-year starter at Oklahoma State where scouts saw improvement every single year. 
Jenkins could go earlier in the night depending on how his draft preparation develops. At 6'6" 320 lbs., he has the framework to have a long NFL career. He is not as good as Penei Sewell, but I would not be surprised if he is picked higher than 20th. 
21 | Indianapolis Colts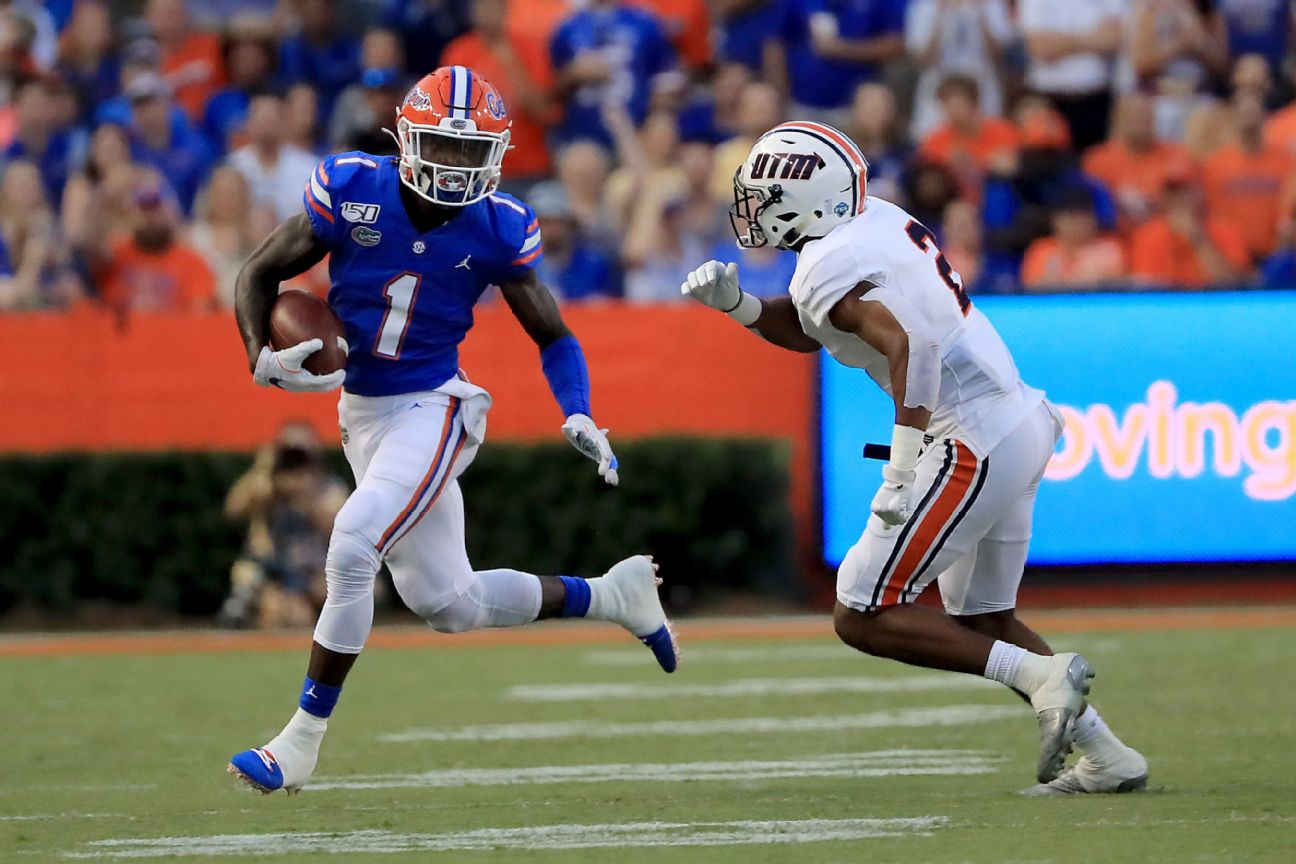 Pick: Kadarius Toney 
Position: WR

School: Florida

Year: Senior

Height: 6'0"

Weight: 193 lbs.
The Indianapolis Colts need a quarterback. It does not appear that the person under center next season will be a rookie. There are rumors that the Colts will be signing a veteran. However, whoever this quarterback is will still need weapons.
The Colts love to vertically attack defenses and Kadarius Toney can make this happen. He is best suited for the slot because of his elusiveness, but he can beat receivers over the top from the outside as well. Defenses must account for Toney at all times, so he is always making an impact in the game. 
22 | Tennessee Titans 
Pick: Gregory Rosseau 
Position: EDGE

School: Miami

Year: Sophomore

Height: 6'7"

Weight: 265
Gregory Rosseau opted out of the 2020 season and he missed 2018 with an ankle injury. Therefore, 2019 was Rosseau's only film that could be evaluated in preparation for the 2021 NFL Draft. 
Rosseau had 15.5 sacks in 2019. He terrorized opposing offensive lines in a variety of ways. In the NFL, he will be able to rush the passer off the edge or from the interior. The Titans need production on the defensive side of the ball and Rosseau would help this cause. 
23 | New York Jets (Trade from Seattle)
Pick: Najee Harris 
Position: RB

School: Alabama 

Year: Senior

Height: 6'2"

Weight: 230 lbs.
The New York Jets are a mess. Everyone believes that they will take a quarterback at pick two, but they also need a strong figure in the run game. Najee Harris is a guy that the Jets can build their offense around. 
Harris can do everything you could ever want out of an NFL running back. He is a strong runner that always falls forward and fights for extra yardage. With a few solid offensive linemen, Harris could quickly become a star in New York.  
24 | Pittsburgh Steelers
Pick: Alex Leatherwood
Position: OL

School: Alabama 

Year: Senior

Height: 6'6"

Weight: 312 lbs.
Alex Leatherwood is a finesse blocker which is not a great fit for a team in the AFC North. However, the Steelers need an athletic offensive lineman that can protect, and this is where Leatherwood thrives. 
Leatherwood can stop bull rushers in their tracks, and he has excellent feet to run speed rushers up the field. Leatherwood has played great against the best collegiate athletes in the country. With Maurkice Pouncey retiring, Pittsburgh is desperate for a first-round offensive lineman 
25 | Jacksonville Jaguars (Trade from Los Angeles Rams)
Pick: Samuel Cosmi 
Position: OL

School: Texas

Year: Junior

Height: 6'7"

Weight: 309 lbs.
Samuel Cosmi started 34 of 35 games for the Texas Longhorn in his three seasons in Austin. The Jaguars are going to take Trevor Lawrence first overall so it would probably be a good idea to find a lineman that can keep him upright.
Cosmi has some flaws in his lower half that make him suited better as a right tackle in the NFL. However, he could still make the switch with coaching and skill repetition. His length and athleticism have allowed him to get away with his technical flaws. I know Urban Meyer understands that you can teach technique, but a prospect must possess athletic ability. 
26 | Cleveland Browns 
Pick: Jaelan Phillips 
Position: EDGE

School: Miami

Year: Junior

Height: 6'5"

Weight: 266 lbs.
In the AFC Divisional Round, it was clear that Cleveland struggled rushing the passer against the Kansas City Chiefs. If Cleveland found a way to get to Patrick Mahomes and Chad Henne, they would have earned the right to play for the AFC Championship.
Finding a pass rusher is a must for Cleveland this off season. Jaelan Phillips is a versatile prospect that can play defensive end or outside linebacker. His pad level is a concern, but his heavy hands and exceptional technique will defeat NFL offensive tackles. 
27 | Baltimore Ravens 
Pick: Carlos Basham Jr.
Position: EDGE

School: Wake Forest 

Year: Senior

Height: 6'5"

Weight: 285 lbs. 
The Ravens need to fill the holes in their defensive line. If Jaelan Phillips is still available, I think they will select him over Carlos Basham Jr. However, both prospects are very similar at the EDGE position. 
Basham has consistently produced throughout his entire career at Wake Forest. Basham could be a better fit at three technique in the NFL than at the EDGE position. He has a great skill set, but his edge speed does not seem to be elite on film. 
28 | New Orleans Saints 
Pick: Zaven Collins 
Position: LB

School: Tulsa

Year: Junior

Height: 6'4"

Weight: 260 lbs. 
Zaven Collins versatility makes him special. He can rush the passer, play the edge, drop into coverage, and stop the run. The only scary thing about Collins is the competition that he faced in the American Athletic Conference. 
Collins fits perfectly with a defense that consistently changes up looks and pressures like New Orleans. The Saints need a linebacker, and they can't go wrong with Collins. His development at Tulsa shows his hard work and dedication to his craft. 
29 | Green Bay Packers
Pick: Rondale Moore 
Position: WR

School: Purdue

Year: Sophomore

Height: 5'9"

Weight: 180 lbs.
The Packers need help on the defensive side of the ball, but Aaron Rodgers desires weapons as well. Rondale Moore has a late first to early second round grade, but if the Packers do not take him at pick 29, they may struggle finding an offensive weapon on day two and three. 
Moore will fit perfectly into Green Bay's offensive scheme with Matt LaFleur's dynamic play calling. LaFleuer and Rodgers would find ways to punish defenses with Moore's athleticism if he was playing for the Packers in 2021. Moore would also help the Packers in the return game, but his size is a red flag. 
30 | Buffalo Bills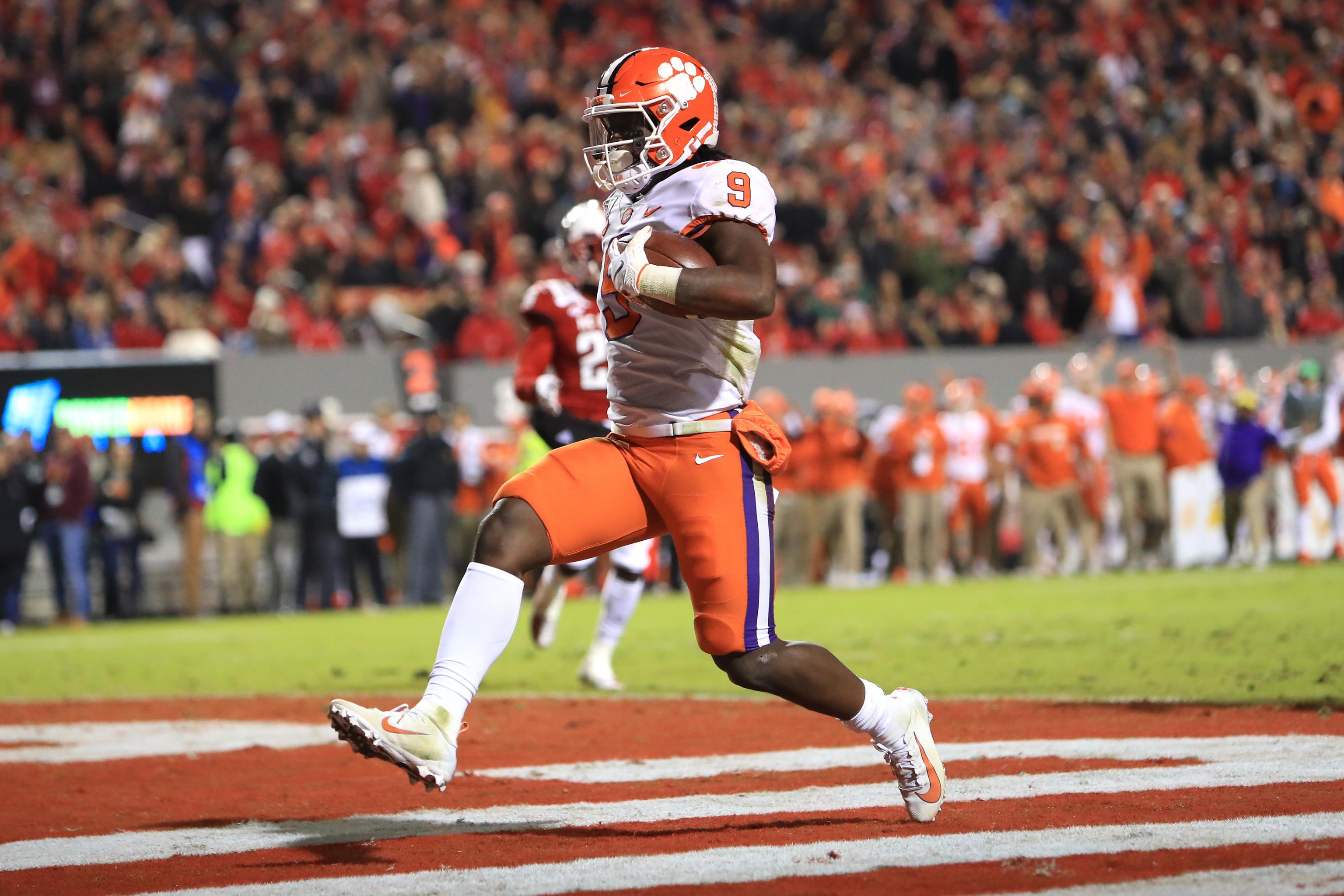 Pick: Travis Etienne 
Position: RB

School: Clemson

Year: Senior

Height: 5'10"

Weight: 205 lbs.
A running back to support Buffalo's passing game could help the Bills take the next step to win the AFC. Travis Etienne helped Trevor Lawrence because defenses had to account for both stars. Etienne could drop to the second round, but he will be the best running back available at this point on night one.
Etienne has tremendous vision, but he has shown issues holding onto the football in 2019 and 2020. Etienne needs work to become a three down NFL running back, but he has incredible potential. 
31 | Kansas City Chiefs 
Pick: Jeremiah Owusu-Koramoah 
Position: LB

School: Notre Dame 

Year: Senior

Height: 6'1"

Weight: 215 lbs. 
The Chiefs were susceptible in the short to intermediate coverage zones this season. Jeremiah Owusu-Koramoah would help the Chiefs defend the pass on third down. He could be a better fit for the Chiefs in the back end at secondary because of his size.
Owusu-Koramoah will have trouble defending the inside run in the NFL, but he can cover and pursue defenders from sideline to sideline. Owusu-Koramoah alongside Tyrann Mathieu in the secondary will be tough for opposing quarterbacks to combat. 
32 | Tampa Bay Buccaneers
Pick: Joseph Ossai 
Position: EDGE

School: Texas

Year: Junior

Height: 6'4"

Weight: 253 lbs. 
Joseph Ossai has been graded as a late first or early second round selection. The Buccaneers were ruthless on defense in 2020 and Ossai will fit into this group perfectly. He is an EDGE rusher at heart that can stop running backs from the middle linebacker position. 
Ossai played all over the field for the Texas Longhorns in his three years with the program. He has only been a true edge threat for one season at this point, so he still needs a lot of work. Nevertheless, he has the tools to add depth to a ruthless Buccaneers front seven. 
 Follow me on IG @tannerkern and Twitter @tannerkern_ for game previews, betting analysis, and the best stories from the sports world. Be sure and keep up with the Sports 2.0 Network, Sports 2.0 Twitter,  Basketball Articles, and  Knup Sports for all of my latest content and best takes from around the sports and sports betting world as well!!
Tanner Kern is a former Division I football player at Lafayette College and a graduate of the University of Connecticut. He is currently a writer for Knup Sports and the Sports 2.0 Network. He is the host of Between the Lines, the official show of Baseball Spotlight, and the main contributor for the website.
Sports Network:
sports20.com, usawager.com, knupsports.com, baseballspotlight.com, basketballarticles.com, betdecider.com, njsportsbookreview.com, dunkelindex.com, sportspub.com, oddschoice.com