I'd argue this is annually the best weekend of football – it's time for the divisional round! Four games, eight great teams, let's get started. I present my Ravens at Bills Betting Preview.
Additional game previews, props and picks will be shared throughout the week on Twitter, so make sure you're following, @griffybets. Let's get to it!
For my data nerds out there – I've compiled my weekly breakdowns with PFF grades and DVOA rankings for each matchup. A great launching point for prepping your #NFLbets, my latest for @S20net https://t.co/lY4EDIs6Zc

— GriffinCarroll (@griffybets) January 14, 2021
Baltimore Ravens at Buffalo Bills
Saturday 8:15 PM, NBC
Line: Bills -2.5
Points: 50
#5 Baltimore (12-5 overall), (11-6 ATS)
#2 Buffalo (14-3 overall), (11-6 ATS)
Baltimore Passing Offense
Receiving grade (27) vs. Bills Pass Coverage grade (10)
Passing DVOA (17) vs. Bills Pass Defense DVOA (12)
Net difference: -22
Baltimore Rushing Offense
Running grade (3) vs. Bills Rush Defense grade (31)
Rushing DVOA (3) vs. Bills Rush Defense DVOA (17)
Net difference: +42
Buffalo Passing Offense
Receiving grade (2) vs. Ravens Pass coverage grade (7)
Passing DVOA (3) vs. Ravens Pass Defense DVOA (10)
Net difference: +12
Buffalo Rushing Offense
Running grade (11) vs. Ravens Rush defense grade (15)
Rushing DVOA (22) vs. Ravens Rush Defense DVOA (12)
Net difference: -6
Ravens at Bills Betting Preview: Thoughts on the Game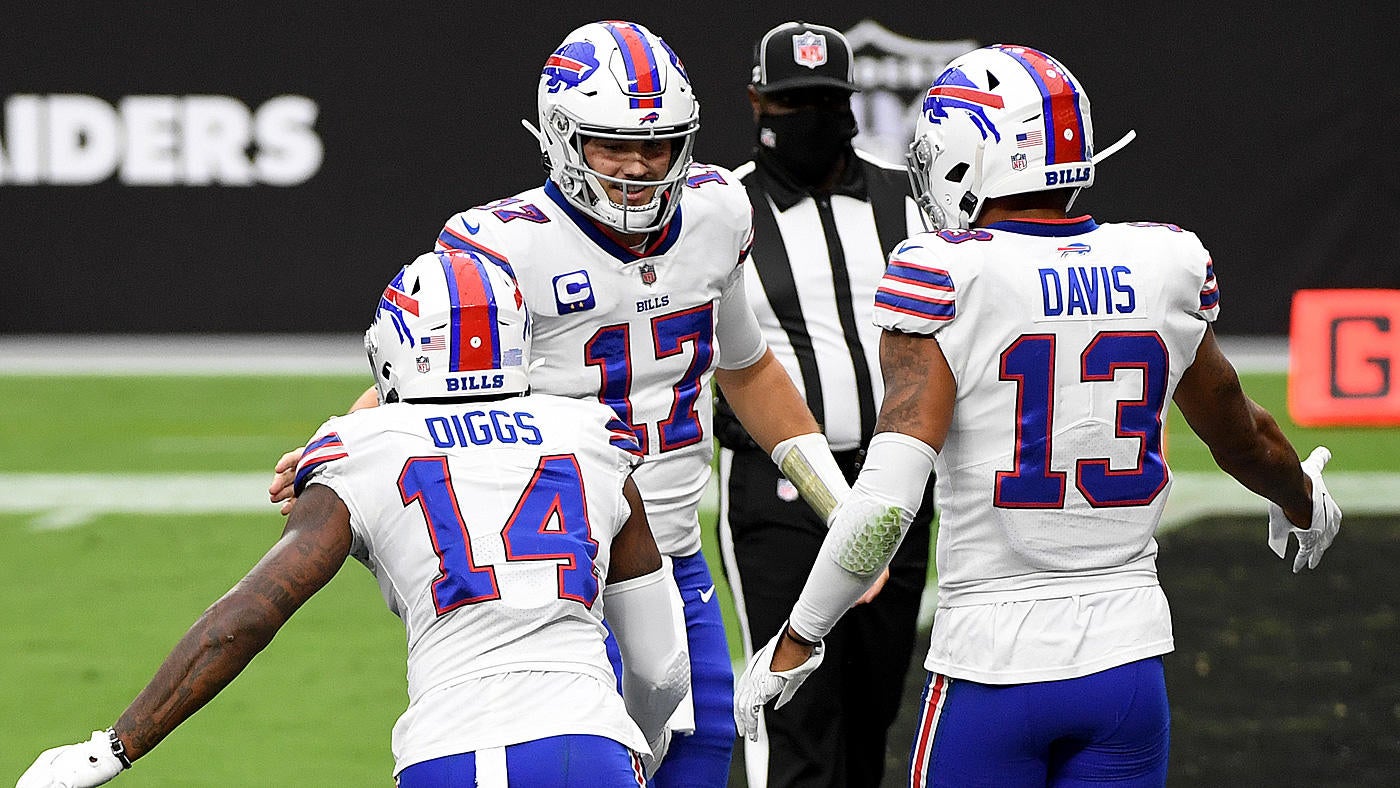 I got Buffalo at -2 earlier in the week and not much has changed, the Bills at -2.5 is the play for me.
There is no doubt a massive advantage for the Baltimore run game this weekend, and that's great for us and player props. However, it's not enough for me to bet on the Ravens to cover or win this game on the road.

The Bills are just the better team – Josh Allen is a better quarterback than Lamar Jackson (by a significant margin), and while PFF hates the Bills run-game, their defense is serviceable against a one-dimensional offense.
DVOA puts Buffalo as the 12th best defense, while PFF has them at 17th.
The difference between that and the Ravens defense (9th DVOA, 12th PFF) isn't egregious, and the Bills have such an advantage on the offensive side of the ball, which tips me over to the Buffalo side..
Allen has been lights-out. He's throwing all over defenses, and his legs are a legitimate threat.
Last week, against a strong Indy defense: 324 yards, two touchdowns, 54 rushing yards, one touchdown
The Bills have lost just once since October 19 – nearly three months, one loss.
They're as hot as anyone, and I'm riding them as long as I can.
Related reading: Why I'm Betting the Bills to Win Super Bowl LV
In short, the Ravens are a middling offense and a fine defense. The Bills are a middling defense and an elite offense.
I'll take my chances on the elite offense every day.
Game pick: Bills -2.5
Player Props to Target: Ravens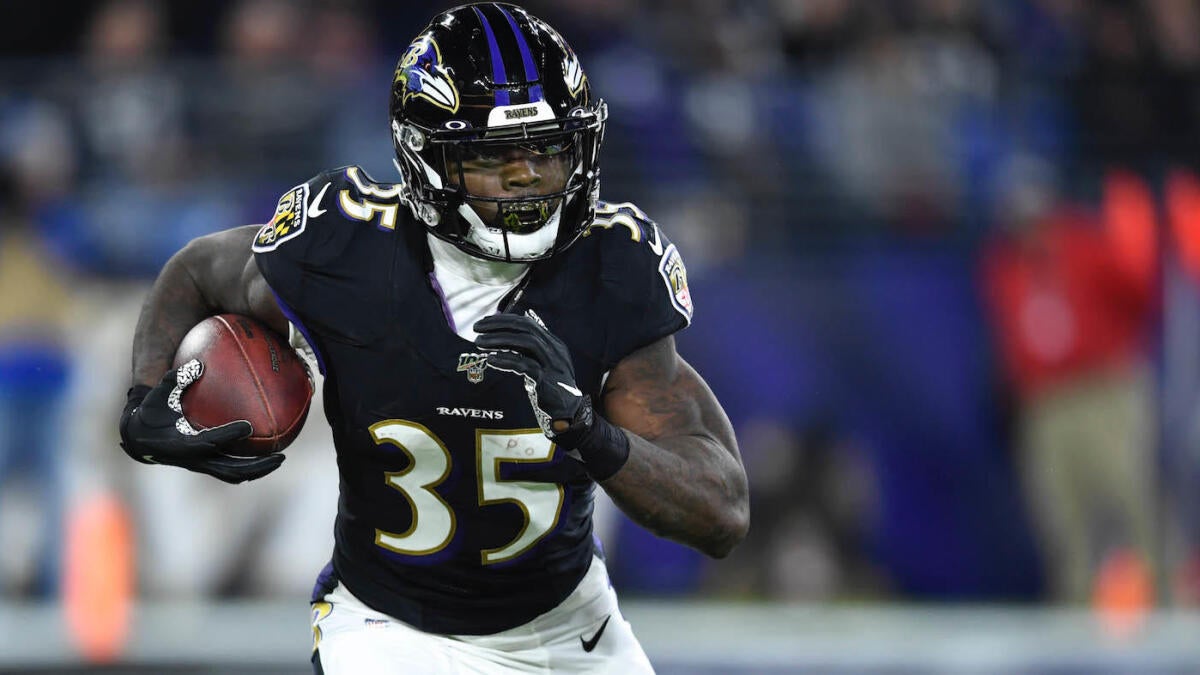 For those following me the last few weeks, I'm feeling like a broken record as it relates to the Baltimore offense.
The clear prop targets are once again in the running game. It becomes a decision between Jackson, JK Dobbins or Gus Edwards.
Jackson took the cake in the Wild Card win over the Titans, finishing with a monster 136 yards on 16 carries, including a 48 yard touchdown run.
Dobbins and Edwards had identical 4.8 yards per carry, with Dobbins getting one more touch and finding the end zone.
So, the question becomes – which to choose?
Jackson: 74.5 yards

Dobbins: 57.5 yards

Edwards: 34.5 yards
I'm drawn to Dobbins, again.
57.5 is significantly lower than the last few weeks off the back of Lamar's big game – and now is the time to strike while he's being devalued. In his last seven games, Dobbins is averaging 76.9 rushing yards per game.
Prop pick: JK Dobbins OVER 57.5 rushing yards
If you want to diversify your assets in the Baltimore rushing game, let's turn our attention to Gus Edwards for a moment.
While Dobbins has scored a touchdown in seven straight games, Edwards is right on his heels when it comes to redzone looks. 
Currently at +270 to score, it's intriguing value for the man averaging 2.4 redzone carries per game. Edwards is a part of this offense, and while he's definitely the third choice, that doesn't mean he can't get in on the action.
Lean: Gus Edwards TD (+270)
Player Props to Target: Bills
Disclaimer: I'm seeing early projections of 24mph winds in Buffalo Saturday night. That is a factor.
With Zack Moss out for the year, and a Ravens defense fresh off holding Derrick Henry to just 40 yards – there's no reason to sniff the Buffalo rushing offense.
That, plus the fact this team is built to throw the ball. Thus – we turn our attention to the passing game.
You can't go wrong targeting a receiver – Diggs is the star with an accompanying high line at 94.5 yards. Gabriel Davis is coming off a four-catch, 84 yard performance, but fourth on the team in snaps played. His over is set at a reasonable 26.5 yards – which I think is a good bet. Neither are my picks this week, though.
Prop pick: Cole Beasley OVER 45.5 receiving yards
This pick is a product of the forecasted winds in Buffalo.
As winds exceed 20mph, studies have shown an impact on deep balls. As such, Beasley stands to benefit the most, as the Bills slot-man working the short middle of the field.
45.5 is a low-mark for a guy averaging 64 yards per game on a pass-heavy offense.
Beasley is second on the team in targets, and plays around 75% of the snaps. He caught seven balls last week for 57 yards, and has five 100+ yard performances on the season.
I'm locking in Beasley's yards if the weather stays windy – and consider Beasley over 4.5 receptions (+120) as well.
Weather TBD Prop pick: John Brown OVER 45.5 receiving yards
In his first game back from injury, Brown was held without a catch on four targets. That's discouraging, but he played 97% of the snaps.
That was the most of all Bills receivers, which is the type of volume and opportunity I covet when looking at props.
The deep-threat Brown could conceivably hit this number with just a pair of catches, and while it may be a roll of the dice, the fact he's on the field so much gives me confidence in the play.
If the weather stays as forecasted, I'll be avoiding Brown.
That will do it for this Divisional Round preview. Make sure you're following on Twitter, @griffybets, for my latest. Thanks for reading, and good luck this weekend!