Rich Ohrnberger, a former player with three NFL teams and current FOX Sports analyst, tweeted that Patrick Mahomes told his fiancé and brother not to attend games in 2022. This tweet broke the internet because it followed an incident at a Texas Tech basketball game where Brittany Matthews was caught by the cameras saying, "Patrick told me no more resting bitch face."
Another interesting note… I've been been told, Patrick Mahomes had a sit down following the season with his brother and fiancé. Ultimately it concluded with him asking them to not attend any games this upcoming season. (1/2)

— Rich Ohrnberger (@ohrnberger) February 18, 2022
After the game, Mahomes tweeted at his fiancé that he loved her, so he was obviously in the dog house. I was not at the Mahomes family sit-down after the season, but I am 99% certain the quarterback did not tell his family to stay away from games.
I do not trust TMZ, but they even said this report was a bunch of bull crap. If you have common sense, you know this is a fake story.
#1 Why Would this Story Ever Break
Brittany Matthews and Jackson Mahomes are two of the most distracting people I have ever met that did not do a damn thing besides hitch their wagon to an NFL quarterback. However, I do not think either of the two are stupid.
If Mahomes told the two of them not to attend games in 2022, I do not think they would have told the media. If they did, they are stupid. I know for damn sure Mahomes did not tell FOX Sports he told his family not to attend games.
This story breaking is the main reason it's fake. If it were true, nobody would ever know it happened. Mahomes does not have a reality TV show just yet…
#2 Happy Wife, Happy Life
Mahomes tweeted at Brittany that he loved her following the Texas Tech basketball incident. Who needs to tweet at their fiancé that they love them?
Either the quarterback was drunk, or he was in the dog house for telling his fiancé to cut the resting bitch faces.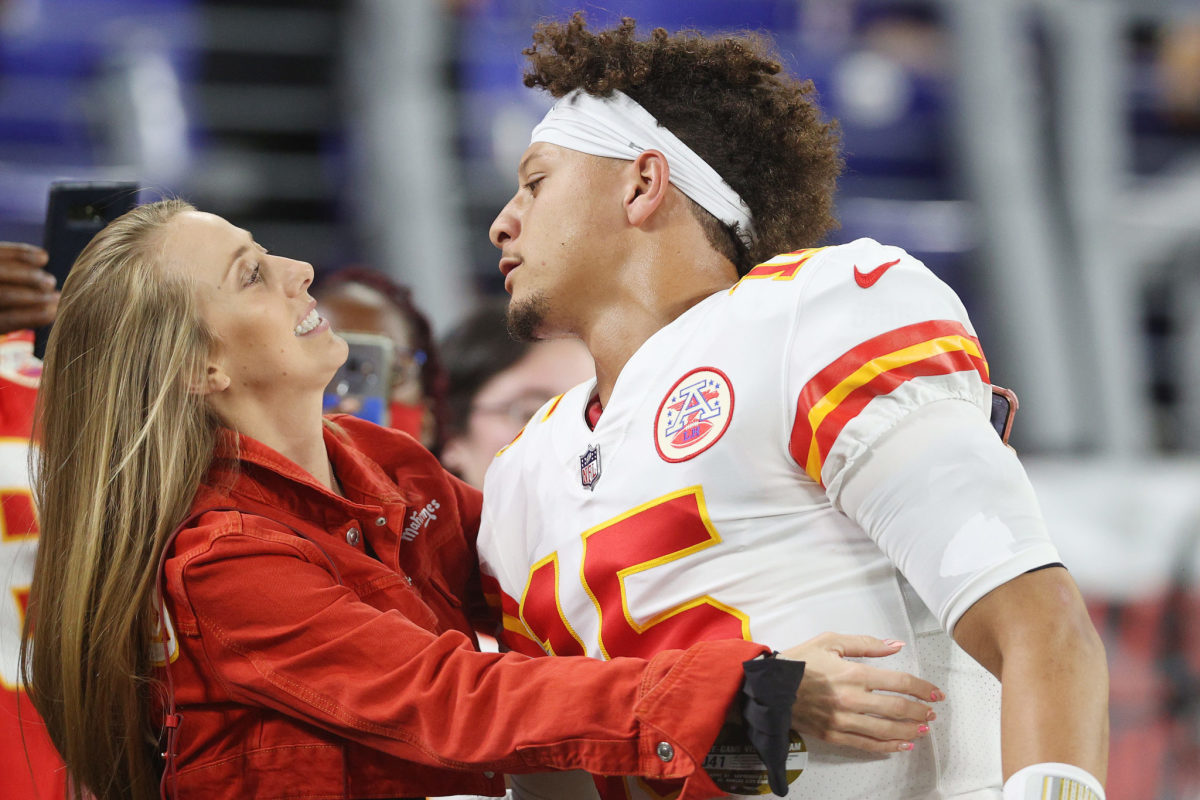 Imagine how angry Brittany would be if she were told she could not attend her future husband's football games…
One of the perks of marrying an NFL quarterback is to go to the games. I highly doubt Brittany was told to shove it by her future hubby. This would either end in a split, or Mahomes' life would be a living hell.
#3 This is Stupid
Jackson and Brittany need to calm down, but if Mahomes is telling his fiancé not to attend NFL games, he might as well dump her. You want your girl at your games. If she is too out of control, do not go through with the marriage.
It appears the wedding is still on, so there is another reason this story is fake. I do not know where Ohrnberger got his facts, but they are 100% wrong. It's never a good look to be told you are wrong by TMZ.
---
Join our Discord
to leave a question or comment regarding this article. We have sports fans talking betting all day — every day! JOIN THE DISCORD NOW AND QUALIFY FOR PRIZES & BETTING SWAG!
---