Most teams in the NHL at this point in the season have played more than 20 games. This season has brought us many great moments, fantastic surprises, and unreal moments so far. These goalie tandems have brought their teams into consideration as top teams in the league with their efforts.
3. WASHINGTON CAPITALS (Ilya Samsonov, Vitek Vanecek)
This duo for the Washington Capitals has provided the much-needed quality goaltending to ensure that the Caps are competing for a divisional championship. Currently, the Capitals are at 29 points and that is good enough to give them a tie for first place.
Illya Samsonov has performed like an elite netminder in the NHL. Currently, he has a record of 7-0-1 with a goals-against-average of 2.22 and a save percentage of .920. He has been able to record a point in all of his appearances of the season so far, not much more you can ask from your starting goalie. His partner has played and been able to get points for Washington as well.
Washington's other goaltender Vitek Vanecek has played favorably well to start his 2021-22 campaign. He has played in 12 games this season and currently holds a record of 4-3-4 with a GAA of 2.54 and a save percentage of .906 percent. He is getting outplayed by his teammate in the net, but both of these goalies are performing better than advertised and their team's place in the standings speaks for themselves.
2. FLORIDA PANTHERS (Sergei Bobrovsky, Spencer Knight)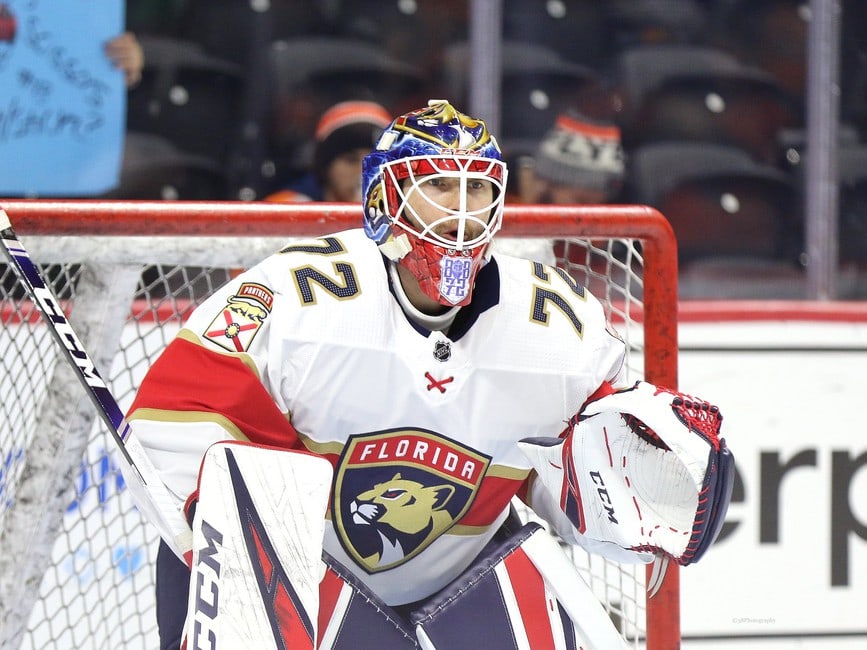 Vezina trophy hopeful Sergei Bobrovsky has played exceptional this season for the Panthers. He has led the way in net and helped Florida earn the number one spot in the NHL standings. He truly is playing like a man on a mission this season with his 9-0-2 record along with his 1.90 GAA with his .940 save percentage. He is setting the standard in the net with the Panthers this season. His young teammate isn't too far behind with his play.
The young 20-year-old netminder Spencer Knight has done his job when called upon so far this year for the Panthers. He has played in eight games this season and has recorded a record of 5-2-1 with a 2.98 GAA while having a .904 save percentage. He started off red hot this season but has since cooled off but still manages to get points for his team.
These two goaltenders have done more than asked for with the Panthers and it is showing. Florida is first in the NHL and the play by these two is a direct impact on their placement.
1. CALGARY FLAMES (Jacob Markstrom, Dan Vladar)
Jacob Markstrom has set the standard of play for goalies in the NHL so far this season. He and his partner's play are a massive reason that the Flames sit in first place in their division. Markstrom has posted a record of 8-3-4 with a 1.73 GAA and a .940 save percentage. The most impactful stat for Markstrom is his five shutouts on the year. When he is given a day off his counterpart has filled in quite nicely for Calgary.
Backup goaltender Dan Vladar has done more than asked of him when called upon. The 24-year-old has played in five games this season and has a record of 4-0-1. Along with getting points in all of his appearances for his team, his save percentage sits at .946% with an astonishing 1.57 GAA. Vladar is everything a franchise could want out of a backup goaltender. With already having two shutouts on the season, this young man may find himself starting more games as the season moves along with his superb play.
The Flames are a top team in the NHL so far this season. They play a very structured game and they have two goaltenders who are able to play to that system and keep pucks out of the net. Calgary has a recipe to go far into the postseason, and with the dynamic duo they have in the crease, this team has all the potential to hoist the Stanley Cup once all is said and done.
\\
---
Join our Discord
to leave a question or comment regarding this article. We have sports fans talking betting all day — every day! JOIN THE DISCORD NOW AND QUALIFY FOR PRIZES & BETTING SWAG!
---