New Sports Card Releases for March 5th
2021 Donruss Baseball
One of the biggest baseball trading card releases of the year is right around the corner, 2021 Donruss Baseball boxes. Hobby boxes contain eight cards per box, with 24 packs per box and 16 boxes per case. When opening a 2021 Donruss Baseball box, expect to receive a minimum of two autograph cards, one memorabilia card, and 29 parallels. The 2020 MLB season might have been almost a third of what a regular baseball season is, but the 2021 Donruss Baseball boxes aren't missing anything due to the pandemic. 
The 2021 Donruss Baseball box contains over 30 rookies that debuted in the 2020 MLB season through their Rated Rookie's program. When searching for rated rookies cards, look for names like Mariners outfielder Kyle Lews, White Sox slugger Luis Roberts, Dodgers pitcher Dustin May and a whole lot more. For rookie cards, Donruss is not done just yet as they are inserting The Rookies programs cards as well. 
As a longtime card collector, I remember collecting baseball cards that were not traditional and kind of gave a younger twist to things. Donruss is offered the Whammy program in this drop that features a caricature of the player on the card instead of a typical game photo. Donruss is also releasing the unleashed program that presents the baseball player as the card's focal point with a wild design behind them.
Other programs in this release are the throwback design cards and a host of various autograph card programs including, classified signatures, signature series, short and sweet signatures, and classics autographs.
If you are interested in collecting baseball cards, keep your eye out for the new sports card releases of 2021 as it is loaded.
2020-21 Panini Revolution Basketball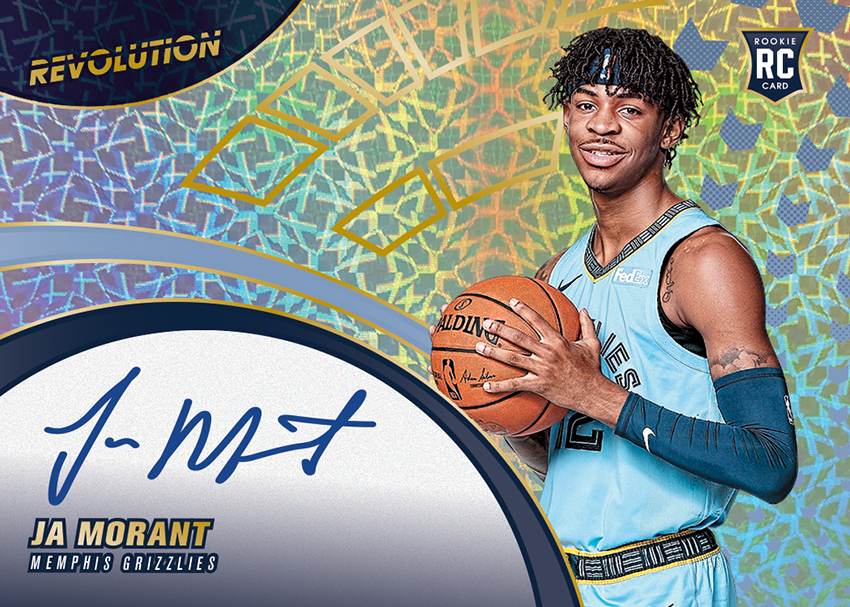 2020-21 Panini Revolution Basketball release is incoming with cards from some of the most popular rookies and veterans. A hobby box will contain five cards per pack with eight packs in a box and sixteen boxes per case with a total card set size of 150. When opening the box, expect a minimum of four card inserts, eight parallels, and four rookie cards. The Panini Revolution Basketball set is offering over 50 different rookies in this program.
Some of the top programs in this set include returning programs such as the Liftoff, Rookie Revolution, Shock Wave, Supernova, and Vortex. Some of the newly designed cards are called the Astro, Groove, Fractal, Impact, Cosmic, Sunburst, Cubic, Lava, and Galactic. These programs might not tell you too much about the name, but these cards' designs are extraordinary; when looking at the description of what to expect in this box, note that it does not guarantee memorabilia or autograph cards which is a big deal.
ENJOYING NEW SPORTS CARD RELEASES OF 2021 WITH KNUP SPORTS? Click the link here to stay updated on the latest sports cards news!
2020 Panini One Football
After completing the 2020 NFL season, card collectors know which rookies are destined for greatness and which one might not be performing as advertised. The 2020 Panini One Football release offers a ton of the top rookie cards with plenty of cool veterans cards. This is a higher-end release and something to keep an eye out for. The 2020 Panini One Football release offers one card per pack, with one pack per box and 20 packs per case. One autograph card is in each hobby box.  
This is a very exclusive release offering top-of-the-line cards. Each program is rated based on color. With some colors like black one of one and blue being one out of 99 or less. Top rookie card programs are Rookie Patch autographs and premium Rookie Patch autographs. On the other hand, there are Veteran Patch cards and duel patch autographs cards. Finally, the packs include the chance of simply getting a base autograph card without a jersey or something special attack.
---
Join our Discord
to leave a question or comment regarding this article. We have sports fans talking betting all day — every day! JOIN THE DISCORD NOW AND QUALIFY FOR PRIZES & BETTING SWAG!
---